12 Tips to Make Your Office More Eco-friendly and Efficient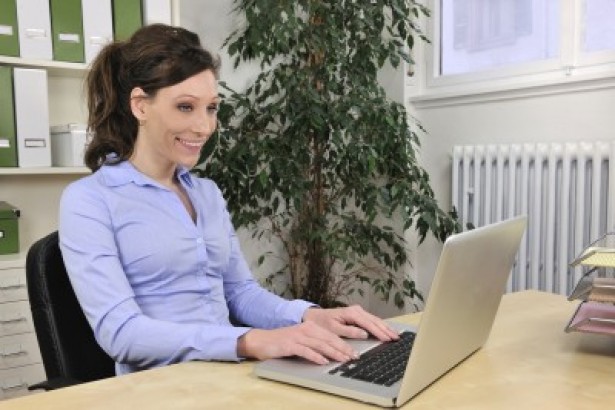 Three years ago I started on my quest to find a more sustainable way of living by becoming certified as a Green Business Consultant.  My goal was to help businesses become more environmentally-friendly and efficient.  I found the concept fascinating and the opportunities to make small changes that had huge impacts endless.
While I never went on to pursue this career, I did discover some great solutions that I have taken and implemented in my daily life that has made my home and my workplace both healthier and more efficient.  And the best part is that increasing efficiency saves money and natural resources.  A win-win situation for all parties involved!  So even if you don't pay for your operational business expenses, you may earn some bonus points with your boss by saving them on their bottom line while preserving precious resources that are important to you.
Here are some simple steps to make your workplace more sustainable!
Go paperless and reduce costs on paper, printer cartridges and storage space required for filing.
Use recycled paper when you have to print.
Recycle all paper, printer cartridges, electronics, plastic, etc.
Compost biodegradable trash.
Use natural light as much as possible.
Use LED or CFL energy efficient light bulbs which use 75% less energy and produce 75% less heat than traditional incandescent light bulbs to save on energy bills.
Buy supplies from local providers to reduce shipping footprint and cost.
Install water filter on faucet to save plastic and bottled water cost.
Use green cleaning products to reduce chemical exposure and improve Indoor Air Quality (IAQ).
Use Energy Star certified electronics (computers, printers, copiers) to save on energy bills.
Encourage carpooling by offering carpoolers priority parking.
Use timers to shut off lights, computers and other office electronics when not in use to save on energy bills.
Bonus Tip – Bring in one of these green plants to improve IAQ!   My beautiful peace lilies are on the top of NASA's list for removing the three most common toxic Volatile Organic Compounds (VOCs).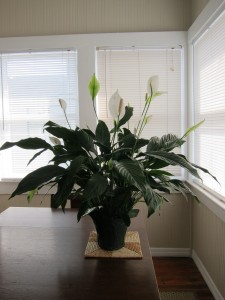 I would love to hear any tips or tricks you may use make your workplace greener!