12-year-old "Eco" Erek recycles 4,000 pairs of shoes from landfills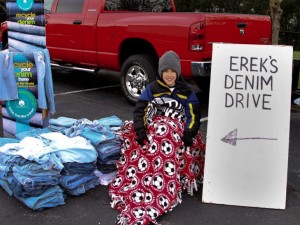 This holiday season I was lucky enough to spend time with three of my nephews, ages ranging from 7 to 12, and was shocked at the ease in which they compute from their iTouch, iPad and other tech devices. After getting a tutorial on how to take better pictures with my iPad 2 from my 9-year-old nephew, Taj, I knew I was going to soon be left in the dust before these kids even hit junior high. It is incredible how the younger generation acclimates to any gadgetry given to them.
I then read a story that now has me convinced that kids are not only more technologically savvy but more morally sophisticated as well. The story followed a young boy, Erek Hansen, that went on a quest to rescue roughly 4,000 shoes from landfills across the Midwest to be recycled.  The 12-year-old and his mother started their journey in their native Ohio and ended their collection in West Chicago where they then donated these shoes to the recycling center, USAgain.  USAgain, a textile recycling leader, ensured the shoes were either recycled into playground or athletic surfaces or reused by underprivileged people in need. The company also donated a $1000 on Hansen's behalf to an environmental clean up non-profit.
"Eco" Erek did not stop there, he now has a website documenting his project logs and his continued passion for recycling in his community. His latest contribution was his 4th annual denim drive in which he collected old jeans from his community through drop boxes set up in front of local businesses and then donated them to the non-profit, Cotton. From Blue to Green. This collected denim was shredded into cotton fibers and remanufactured into housing insulation to benefit communities affected by natural disasters. In the past, the denim insulation has gone to Habitat for Humanity to help communities devastated by Hurricane Katrina in the Gulf Coast region.
"Eco" Erek definitely shines an amazing light on the efforts of our youth in this country to lead more sustainable lives and is a role model for us all. Just when you think your own efforts are not having an impact or seem too tough to continue, you get inspiration from the next generation through stories like these. To learn more about how you can participate in making a difference and donating your unwanted sneakers, please check out this article on Earth911.org.