A fresh start with the 3 Day Suja Juice Cleanse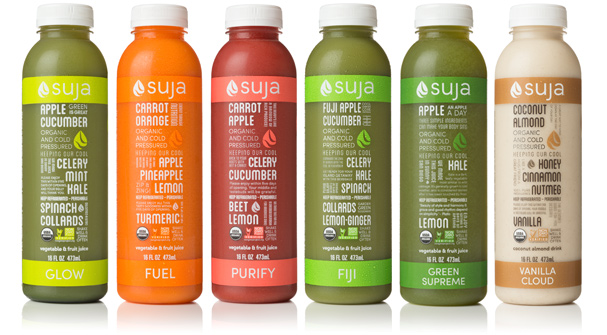 Everyone, especially new moms, knows how hard it is to lose five pounds, no less the LAST five pounds lingering around your waist, thighs or other problem areas. Whether you are going on a trip with your hubby to tropical place, to a bachelorette party with friends, or are just dying to wear those pants that have been stashed at the back of your closet since the pre-baby days, I may have the quick and healthy solution for you.
Disclaimer: This company has not compensated me for promoting this product, I just happened to try it, and had a great experience I wanted to share with my readers.
The Suja Original 3-day Fresh Start Program was a pre-packaged, cold-pressed set of 6 delicious juices in 16oz bottles. The different flavors were amazing and drinking 16oz of juice every couple of hours wasn't as impossible as I had previously thought. I really liked the fact that this diet was preparation free and laid out step by step. You know which juice to drink, when to drink it, and you can just grab it and go.
On a toddler schedule, this was much better choice than some of the alternative diets, like Paleo, that requires tons of time in the kitchen cooking, planning, and prepping. There are 1,3, and 5 day juice cleanses and also a 3 day, 3 juice cleanse offered at Costco. I chose the 3 day, 6 juice cleanse because I wanted to get a good taste of the juice diet without going too long or just doing a 24 hr challenge, but there is no right or wrong choice. It is whatever is right for you.
Although I did get a few headaches from the sudden lack of morning caffeine, I pushed through and felt great after the first 2 days. I thought to myself that giving my body a well deserved reset, kicking a few cravings and bad habits, and losing a few pounds in the process was definitely worth sacrificing solid food for 72 hrs!
My reason for juicing: 5 days in Kauai for loved ones wedding!
Game changers for me:
Actually loved the taste and freshness of each juice offered throughout the day, honestly there was not one I did like.
Easy and prep-free: box came with 6 juices, ready to drink, in the specific order.
16 full oz every 3 hours (6 per day) is actually a lot of  juice. Every time I was starting to get hungry it was time for another bottle.
For me, it was local!!
Organic, non-GMO, gluten free, BPA free.
Killed my sugar cravings.
Was so easy to fit into my schedule with Kayden, grab a bottle and go!
Tad tough to swallow (or rather, not swallow):
Caffeine headaches from no coffee or any caffeine.
Miss the actual feeling of chewing food.
Tips: If you are absolutely dying, have a few slices of tomato or other fresh veggies and get back on the horse!