3 Natural Ways to get Beachy Blond Highlights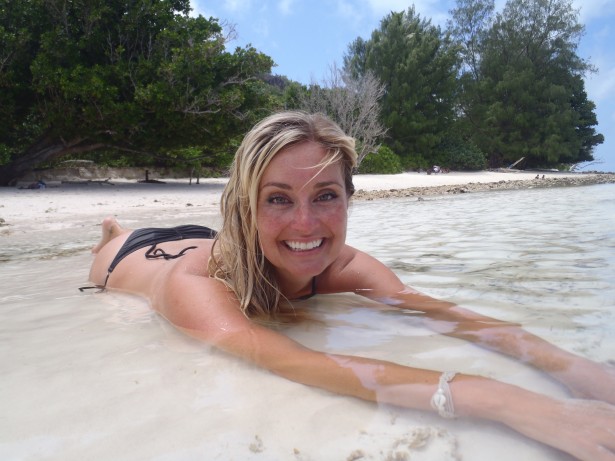 For over a decade I have indulged in treating my hair to bright beautiful highlights painted on in stylish beauty salons.  I enjoy pampering myself with these occasions and always wind up involuntarily purring with pleasure during the scalp massage hair rinse.  But over the past few years, my beauty budget has been seriously slashed and I am trying to minimize the chemicals and toxins I expose myself to.  So I have discovered some great natural ways to achieve my sun-kissed highlights and am very excited to supplement my expensive addiction with these healthy new solutions!
Chamomile Highlights courtesy of Green Living
Step 1: Boil 1 cup of water in small saucepan.
Step 2: Steep 6 chamomile teabags in water for 15 minutes.
Step 3: Remove teabags and mix in 1/2 cup of plain yogurt and 7 drops lavender oil.
Step 4: Apply mixture to dry hair from scalp through to ends.
Step 5: Cover with plastic wrap or shower cap.  Leave in for 30 minutes.
Step 6: Shampoo and rinse.
At the beach: Brew a pot of strong chamomile, let cool, and fill spray bottle.  Spritz throughout hair while soaking in the sun!
Honey Highlights courtesy of Organic Authority
Apply honey to clean damp hair, comb through from scalp to ends and leave in for two hours.
At the beach: Mix equal parts lemon, honey and water in spray bottle.  Spritz and sunbathe!
Lemon Highlights courtesy of She Knows
Mix 1/4 cup fresh squeezed lemon juice with 3/4 cup water in spray bottle.  Shake and spritz throughout hair completely.  Leave in for 2 hours and try to spend at least 30 minutes in the sun.  Do at home or bring to the beach for sun enhanced lightening!
BONUS – Get beachy waves by adding 2 tablespoons of sea salt to your spray bottle and scrunching your damp hair!