3 Smoothie Recipes for weight loss, skin, and health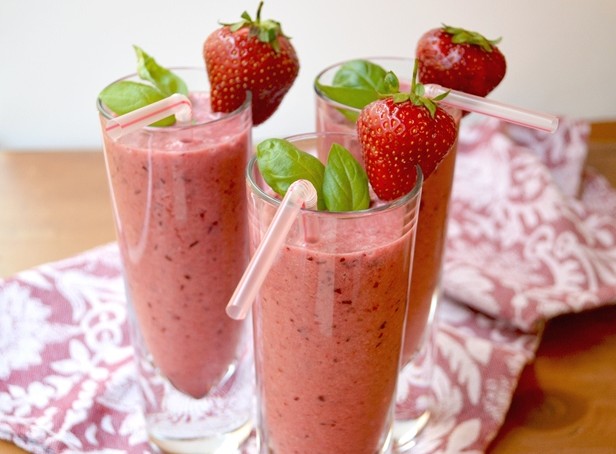 Since about month 6 of my pregnancy a very strange thing started happening to me, I started to trade in my salty tooth for my citrus tooth. I eat roughly 2-3 tangelos a day (an amazingly juicy and slightly more tart orange) and consume tons of blueberries, strawberries and pineapple. For anyone that knows me well, they know that this is beyond strange since I used to carry a supply of soy sauce packets and a salt shaker in my purse at all times and never really cared for fruit at all. I know, I know, salt was more than a bizarre addiction, it was a sodium-centric lifestyle! Yikes! But now that I am eating for 2, my cravings are swaying toward the citrus side of life and I couldn't be happier.
Because I had such a sodium focused diet I was never really interested in smoothies or acai bowls or even juice for that matter, but that has all changed! This month I have dusted off my blender, stocked up at the seasonal fruit and veggies at the farmers market, and am excited to try all those smoothie recipes I had previously pinned for the day my taste buds would change! And with all the new anti-oxidants and vitamins I am introducing to my diet I am hoping to see a better complexion and to achieve better health.
Smoothie for Better Skin: Beauty Bonanza Smoothie from youbeauty.com
¼ cup fresh or frozen strawberries
½ cup fresh or frozen blueberries
1 orange, peeled and pits removed
1 ripe banana
½ cup fat-free plain yogurt
½ cup extra firm Silken tofu
2 tablespoons chia seeds
1 teaspoon agave nectar
Smoothie for Weight Loss: Banana-Raspberry Smoothie from incrediblesmoothies.com
1 cup raspberries
1 medium banana, peeled
3 cups fresh baby spinach
2 teaspoons chia seeds, soaked for 20 minutes
4 to 6 ounces of filtered water
Add all the ingredients to your blender and blend on high for 30 second or until creamy.
Calories: 213 | Protein: 6g | Carbs: 47g | Fat: 3g | Fiber: 14.9g
Tip: This site has over 350 smoothie recipes for weight loss and are categorized by fruit flavor!
3/4 cup frozen strawberries.
1/2 cup cucumber, peeled and sliced
1 large frozen banana, broken into pieces
1 1/2 cup vanilla almond milk (or alternate milk)
1 1/2 cups kale, loosely packed, stems removed (you can also use spinach)
Large handful of spinach
Add the almond milk to a high-power blender and toss the banana pieces and kale in. Blend on high. Add the strawberries and cucumber. Blend again until smooth. Add in more almond milk and/or ice for desired consistency.
Tip: Kale and cucumber are in their prime season right now so this recipe is great for Spring!!
**This article is not an advertisment