Celebrate Spring at a Cherry Blossom Festival!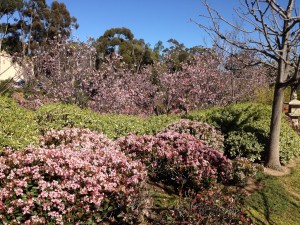 If you woke up this week with just a bit of a runny nose or itchy eyes from allergies or feeling groggy because we lost an hour of sleep, then you know Spring is upon us! This is one of my most treasured times of the year because it is Cherry Blossom season and I have always been in love with these beautiful pink and white blooms.
Even though I do not live in DC, where the abundance of the beautiful blossoms are in the US, I was still able to spend the afternoon yesterday at the Japanese Friendship Garden in San Diego's Balboa Park which celebrated its own Cherry Blossom Festival this weekend! There are many festivals around the nation this month celebrating Hanami, the Japanese traditional custom of enjoying these beautiful blooms, so make sure to stop by the festivities in your town.
Festivals of note in the US:
National Cherry Blossom Festival– Washington DC- March 20th- April 14th
Cherry Blossom Festival– Macon, Georgia- March 15th-24th
Sakura Matsuri– Brooklyn, NY- April 27th, 28th
Northern California Cherry Blossom Festival– San Francisco, CA- April 13th, 14th, 20th, 21st