Diary of a Navy Wife: Beating the Deployment Blues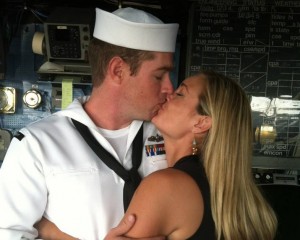 Another summer without my husband has passed and the start of fall brings me renewed energy as the end of his deployment draws near.  Lucky for me, my sailor will be coming home before his ship is scheduled to return which is only a few days shy of Christmas.  I am hoping to have him here for Thanksgiving, God willing.
That being said, these past months have been the longest and hardest in my life.  I have always been an extremely independent person and thought that his deployment wouldn't affect me as deeply as it has.  But as many military spouses will tell you, at some point the lack of communication with your loved one, the unpredictable dangers they may face and the isolation that comes from living far away from your family and friends come together to clobber you and send you deep into the deployment blues.
Thankfully there are many wonderful resources available online that I found helpful throughout this time (I have included links below).  As for me personally, here are the things that empowered me to get through and reconnect with my true self – the happy, positive optimistic person that I briefly lost to deployment.
Exercise – Challenging my body has not only made me physically stronger but also mentally and emotionally which has helped immensely.
Tip – Try something new every month to keep your mind focused on the task at hand and your body will gain new and different strength.
Eat healthy – You know the saying, you are what you eat.  Resist the temptation to turn to comfort foods that can pack on the pounds quick and make you feel even worse about yourself.
Tip – Try new healthy recipes and invite over a friend for a tasting.  Cooking for one is never fun and the company will be much needed after many nights spent alone.  Here are some fun easy ones that are delicious and budget friendly!
 Reach out – I cannot stress the importance of this enough.  It can be hard to admit even to yourself that you are feeling blue but talking to your friends and family is the first step to combating it.
Tip – Plan a trip to spend some quality time with your loved ones while your spouse is deployed.  It is the perfect time if you can squeeze it into your schedule.  If you can't or if you need something more objective than the perspective of your kin, the military provides coverage for counseling.  And sometimes there is nothing better than an unbiased opinion to gain some clarity.
Gratitude journal – Every day I try to take note of all of the things that I am grateful for no matter how big or small.  This helps me keep a positive outlook when my mind wants to get clouded with negativity.  It also helps distinguish time and keep the days from all melting into one long one.
Tip – A fun way to do this without keeping a journal is snapping daily photos of things that made you happy on your phone.  At the end of the deployment, you will have a collection of photos that will always remind you of how you found beauty in that beast and you can share them with your loved one.
Find a new hobby or passion – I was lucky enough this summer to have time to volunteer for the local sea turtle conservation group and the Children's Hospital.  I also took on surfing!
Tip – Meet Up is a great resource to find a network of people that share your passion and make new friends!  They have groups that range from hikers to birders to wine tasters to divers just to name a few.
Learn something new – Take that class you have always been wanting to whether it's learning to speak Spanish, play the guitar or paint.
Tip – Coursera offers free classes online through great universities on a wide variety of subjects.  I am taking one on Human Physiology from Duke at the moment and it is quite the challenge!
And most importantly, remember to do things for yourself that make YOU happy!  Go to that concert, take that long bath, go watch that girlie movie when it's still out in theaters!  This is the time to focus solely on YOU so take advantage and make it count!
I would love to hear what helps you get through your tough times so please share in the comments box below!
Resources