DIY 3 Ingredient All Natural Lotion Bars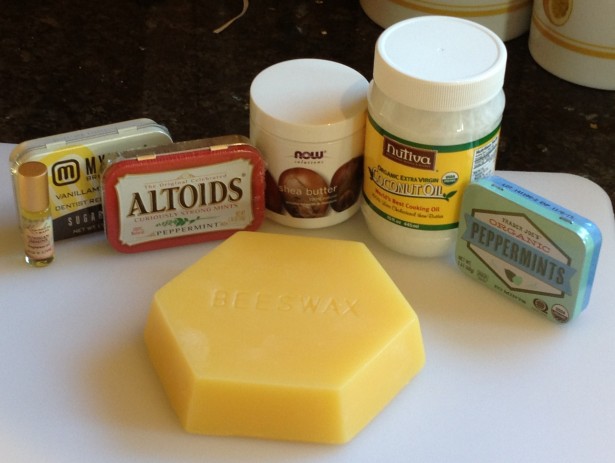 This past month I have officially entered into the nesting phase of my pregnancy and have spent most of my time painting furniture, organizing the house, and prepping the nursery. Due to this new found love for painting and the constant hand washing it requires, I have found that it has taken a real toll on my hands and they are more dry and cracked than they have ever been before. I am not the biggest fan of the super thick hand lotions that usually cost $10 a pop and are so small that I end up losing them in a purse transfer so I decided to scan the blogosphere for some alternative remedies and stumbled upon lotion bars.
Lotion bars are exactly as they sound, a hard block of lotion at room temperature that can be softened by body heat allowing you to rub it on your hands, knuckles, elbows, and other especially dry areas of the body. The all natural mixture of beeswax, pure body butter, and oil locks in the moisture so you don't have to keep reapplying every few minutes and it even stays on after a light hand washing. Last night I was particularly impressed when after I applied this lotion to my hands I was able to take out my contacts without getting lotion all over them.
Another great feature is that you can put this lotion mixture in small portable tins, such as Altoids, and keep them in your car, purse, diaper bag, or even a manly jeans pocket. They can even be used for lip balm so you have a multi purpose product in one tin. In this batch I was able to make 4+ tins and still had some leftover. It is also a very easy recipe to follow. After melting equal parts of body butter (coco, shea, mango), oil (avocado, coconut, olive) and beeswax simply pour into tin, ice-cube tray or plastic mold and let dry for 20 minutes. Once dry, pop out of tin or mold and apply!
Ingredients:
5.5 oz Beeswax
5 oz Shea Butter
5 oz Coconut Oil
Melt pre-measured ingredients in a double boiler (I melted the beeswax before so I could measure it more accurately and then added the other 2 ingredients) Stir well and pour into molds, tins, ice-cube trays etc… (for fragrance I added a few drops of my favorite scented oil, Jasmine, feel free to use your favorite scent to give them a personal touch) Let lotion completely cool and harden before popping out and applying.