DIY Homemade Bubble Bath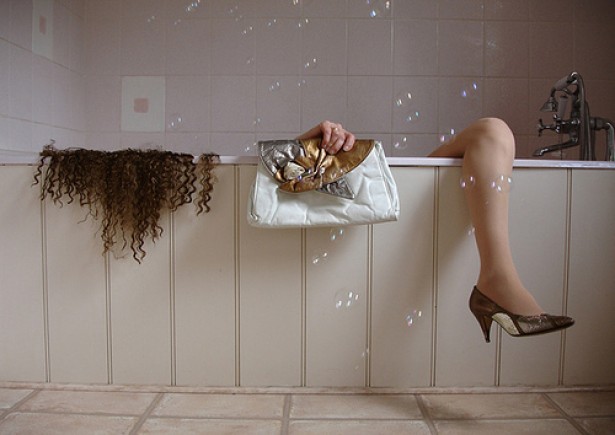 This past Super Bowl weekend was an absolute blast! It was the first official soiree at our new house and I had a great time entertaining and visiting with my close friends and my sister. With that being said, this morning I woke up feeling aches and pains that were only intensified by the fact that I couldn't get comfortable in my bed last night due to my new pregnancy diameter. The only thing that I could think of that would help is my go-to remedy for everything, a nice long bubble bath.
Now I know some of you are thinking, wait a second, she is pregnant and is not supposed to be taking baths. Well, now there is pregnancy myth I would like to bust wide open. After months of depriving myself of a much needed soak, I met with my doctor on Friday and he clarified that it was only recreational hot tubs that are higher than 98 degrees that are off limits to us mom-to-be's. I was elated, and today was the much anticipated reunion with my tub.
I didn't have any desire to spend money after this weekend and I have also not been thrilled lately with all the chemicals in the store-bought bubble bath so I scoured the internet for a few homemade recipes and found that with 3 basic ingredients I could get the job done. I hope you enjoy this as much as I did!
Homemade Bubble Bath
1/2 cup shampoo (I used the baby lavender shampoo that is great for sensitive skin)
3/4 cup water
1/4 teaspoon salt
In a bowl, mix the shampoo and water until well combined.  Add salt and stir until the mix thickens.  Pour into a reusable bottle for repeated use.
* Tip: Add scented oils to make fun flavors like Cherry and Raspberry Vanilla!