Project Nursery: Tips to save you time and money on DIY Repurposed Furniture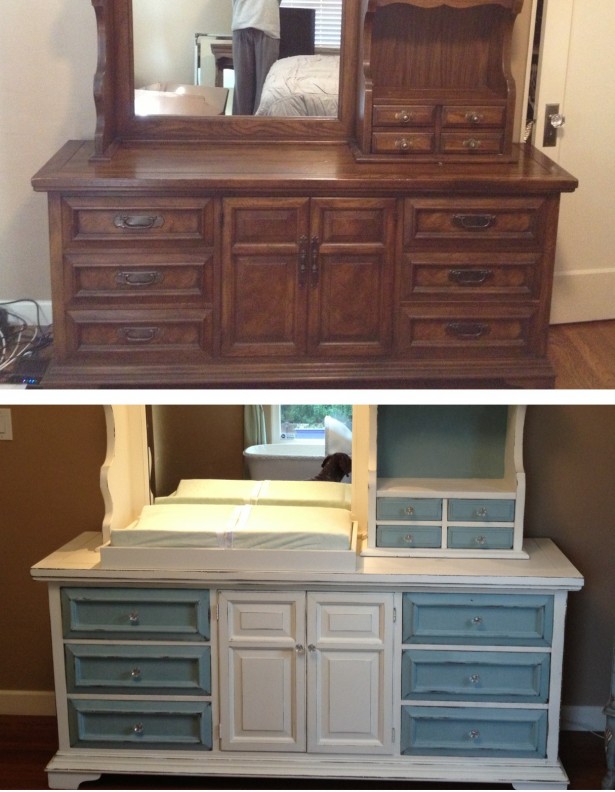 The last time I touched base on Project Nursery was week 20 of my pregnancy and now that I am almost done with this fun but challenging project at week 30, I feel compelled to share the time and money saving tips that made it successful. At week 20 I had little more than a room filled with mismatched furniture, storage clutter, and a wood hutch that had good bones and needed a great vision. Now, we have a real nursery complete with a wonderfully comfortable glider, crib, play rug, curtains, and most of all, the completed hutch (pictures of the completed nursery coming soon!) I am so pleased with the way the hutch turned out that I am still in shock that my contractor quoted me $1200 to paint and switch out the hardware when I was able to do it with only $250 dollars in materials! Savings of… drumroll please….$950! I was able to pick up the hutch for $69 at the consignment store, complete the work in 3 days, and spend $250 on materials. Hutch total= $319! I can also tell my son that his Mom was one who designed the furniture for his first room and it makes me feel very proud!

Tip 1: Invest in a Paint Sprayer: I picked up the Wagner Power Painter for $49 because it was a great price and I loved it. There are mixed reviews but if you keep the barrel full and make sure the paint is the right consistency you will be fine. It is a little loud but if I can do it at 7 months preggers I figure it is pretty user friendly! It was a godsent and saved me about 14 hours of detailed hand painting on a very large piece of furniture. I used the Annie Sloan Chalk Paint with this in the sprayer and when diluted with roughly a cup of water per liter the consistency was perfect.
Tip 2: Plan out exact materials needed before heading out to get them: I started getting some weird looks around the fifth time I went to Home Depot in 2 days. Just the big bellied lady here to pick up some more knobs and screws! I would have saved money on gas and tons of time if I had really thought through exactly what I needed and made some common sense choices regarding hardware.
Tip 3: Opt for classic and affordable hardware: After ordering 12 knobs for $16 a pop at the specialty store, I snapped out of my pregnancy fog and realized that I was supposed to be saving money on this project. Thankfully I was able to return the $230 worth of knobs and went back, once again, to Home Depot where I got some clear knobs at $3.49 each that perfectly fit in with my antique look. I also realized that I didn't want to take away from the paint job by having over pronounced hardware.
Tip 4: Make it a multi-purpose piece if you can: We decided to not only make this the hutch for his clothes, toys and books but we also mounted a topper on it and made it a changing table. We didn't feel like spending another $200 on a changing table and frankly the room is small so the more space we could save the better! We also put a puck light in above the topper for better lighting when changing diapers.