Eco-Friendly Savings for Man's Best Friend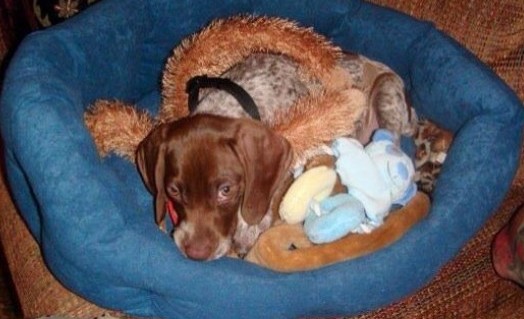 If  you are a friend of the Lindner Family, or even an acquaintance, then you are well aware that we treat our dog Ranger like our true first-born son. We picked Ranger out in January 2008 at 9 weeks on a little avocado farm in Fallbrook, from a litter of 10, and it has been true love ever since. I remember it like it was yesterday, Ranger was only about a foot long and came right up to me, gave me some kisses on the chin, and curled up in my lap like it was the most natural thing in the world. I knew in that moment he had chosen me to be his momma and I was smitten.
Even as I write this article, he dutifully sits next to me, giving me kisses and keeping me company. It is truly a joy to have such an amazing bond and I couldn't imagine our lives without him. That being said, Ranger does not come without a hefty bill. Costs for routine veterinary care, food and treats, daycare, and travel amount to roughly $2,500 per year and luckily Ranger has not had any major illnesses yet that would spike that annual cost significantly.
Pets are also said to have twice the environmental impact of an SUV factoring in the calculations of how much land is required to feed a midsize dog and also their contribution to pollution. So now, my resolution to save and my quest to becoming more sustainable shifts to Ranger and how we can reevaluate his daily routines to cut expenses and environmental impact. This is an area I could use some help with so, of course, I turn to the pros in hopes that I can find some answers and this is what they recommend. I would also love any tips from the readers on money-saving ideas or experience with any of the suggestions below!
Homemade dog food: This has not been a viable option for Ranger as of yet because I am not a big fan of food preparation twice a day and I have also been told by our Vet that consistent kibble is the best option for his breed. After some research though, I have found some very convincing arguments from pet owner stating that a homemade diet gives you control over the additives and preservatives that you are giving your pooch. It is also said to be great for dogs that have food allergies and the result is a stronger and shinier coat, an improved digestive system, and better breath. Buying the fresh ingredients in bulk can also be a very cost-effective way to give your canine a healthy and fresh diet for less. If any of you have had luck with a homemade diet for your midsize dog, please share your story in the comment section. I've heard that the Homemade dog food website is also a great place to find an array of home recipes for your pup!
Restitch and Reuse: Ranger has this uncanny ability to take a toy and shred it to a million pieces in the first 10 minutes he receives it. He will methodically go into the corner of our living room, sit under the table, and pull out every shred of stuffing until it looks like a cotton snow storm jut blew through our house. We used to roll our eyes and discard the remains, swearing that we would never get him another toy unless it was made out of steel but now I read that the best way to save is to just pull out the needle and thread and stitch the toy back together. The best part about this method is that for Ranger, the toy becomes usable again!! Now that the squeaker is out, and there is no stuffing left to shred, he can drag it around the house like its his new best friend! No more rushing to the store to get him the newest indestructible toy, we just keep the toy and remove the destructible parts. If you do need a good indestructible toy though, check out these environmentally friendly and durable options from Olive Green Dog.
Grooming at home with Eco-Friendly Products: Grooming Ranger at home is definitely a great way for me to save on expenses. Since Ranger is spoiled and is constantly jumping up on our bed, I usually give him a bath every week or so. By doing this from home I am saving roughly $150 on grooming and I can also control the products that are used on my pooch, making sure they are good for him and the environment. I usually use Buddy Wash which is a shampoo and conditioner in one that is made from pure botanical extracts and is very gentle if it gets in Rangers eyes.