For the love of Kale: Health Benefits and Recipes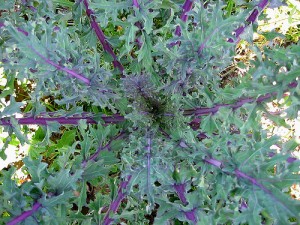 It is funny how my salads have evolved over the years and always been a reflection of my personality and lifestyle at the time.  In college they were colorless mounds of iceberg lettuce drowned in ranch dressing and croutons.  Then hit the nationwide Atkins diet rampage when it was only acceptable to eat romaine hearts chopped with crumbled cheeses, shredded meats, avocado and anything else that made it seem less like a salad and more like a sandwich on lettuce.  Then spinach became the rage and I experimented with different kinds of fruit in my mixes as I entered my thirties and my metabolism hit a wall.
Now I have graduated on to kale and I think I may have finally found the perfect leafy green for me.  It's definitely tastier than the others as well as prettier, more versatile and more colorful.  I feel like I have a lot in common with my new crunchy crush as I welcome the approach of my mid thirties.  I finally found the man of my dreams and now I have a solid salad staple to match.  Huzzah!
By far the best part about kale is that it packs a lot of nutrients into a small serving.  So in an effort to persuade you to infuse a little more of this luscious leafy green into your life, I have put together a list of all of its amazing health benefits.
High in Antioxidants – Especially carotenoids and flavonoids which are fierce cancer preventing agents.
High in Calcium – 1 cup contains 9% of recommended daily value to keep your bones happy and healthy.
High in Fiber – 1 cup contains 5 g and will keep your digestive system moving regularly.
High in Vitamin K – Helps prevent cancer, blood clotting, osteoporosis and heart disease.
High in Vitamin A – Great for vision and cancer prevention.
High in Vitamin C – Good for immunity and metabolism.
High in Omega 3 Fatty Acids – 1 cup has 10% of recommended daily intake which has great anti-inflammatory properties.
Low in calories and fat – 1 cup contains 36 calories and 0 grams of fat.
Great for detoxifying your system – using it in juice blends is a tasty way to rid yourself of toxins.
I love kale in salads, stir-fried with onions and scallions or baked as healthy chips.  Here are some fun recipes to start with and I would love to hear how you love to prepare it!
Kale Kleanse Juice courtesy of The Holy Kale (all ingredients should be organic) 1 lemon 1/2 cup pineapple 1 bunch kale 1 bunch parsley 1/2 cucumber 2 inch piece of ginger 21 g of mint 2 ounce apple cider vinegar 1/8 tsp sea salt 1 tbsp aloe juice