Healthy Recipes: An App to satisfy all tastes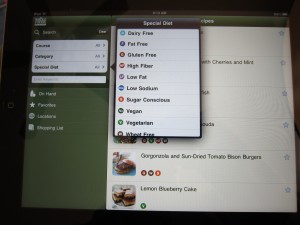 This year presents me with a unique challenge I have never faced before.  Still just a newlywed, my husband who is active duty in the Navy has been slated to be gone for the majority of the year.  I have decided that to stay sane,  I need to keep myself as busy as possible.  And one of my goals for this time is to master healthy homemade meals that we will both enjoy.
This will be tricky for a couple of reasons.  I would prefer to go completely vegetarian if not vegan but my husband, being the Southern stud that he is, loves his meat.  I love to infuse veggies into my meals in any and every way possible and he has a more traditional taste.  My idea of the perfect breakfast is a warm savory egg dish and his is a sweet treat.  But I am confident that I will be able to blend our tastes and find healthy natural recipes that will satisfy both of our appetites.
With all of the different resources out there from cooking blogs to cookbooks, I have decided to start with a free app I found that has a great variety of healthy recipes made from delicious natural ingredients.  The Wholefoods Recipes App provides tasty treats for all palates that can be accessed on your iPhone or iPad on the go!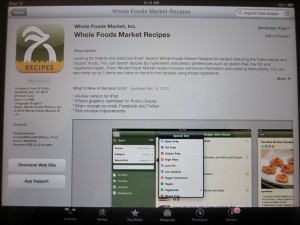 The categories range from being on a budget to cooking with kids and courses cover appetizers to desserts.  This app is a quick and simple reference to help identify and choose what is best for your occasion.  And if you already have specific ingredients in your fridge you want to use, you can enter them and search for recipes that include them.  What a great way to find creative ideas for those items that might have otherwise gone bad and been thrown away!
Another excellent search option on the app is the ability to choose any special diet needs including dairy free, fat free, gluten free, high fiber, low fat, low sodium, sugar conscious, vegan, vegetarian and wheat free.  Now if that doesn't cover it all I don't know what does!
Needless to say, I am excited to dig in and start sampling this mouthwatering list of taste explosions!  And I will report back to let you know what worked and what didn't.  Stay tuned! L'aventure commence!