Healthy Dinner Recipe: Under $20 and 20 minutes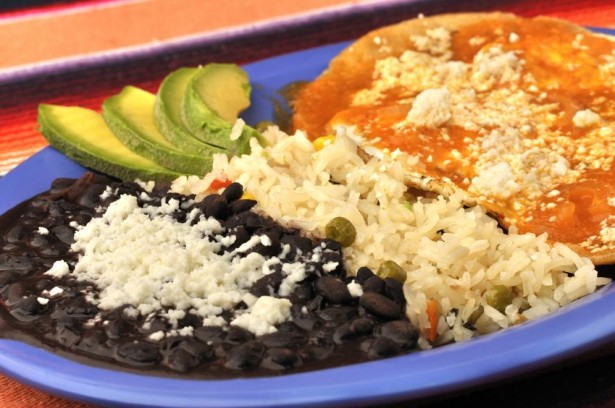 So here is a recipe that I whipped up on my own one night to satisfy both the sweet and savory styles of my husband and I a few months ago.  A delicious healthy meal that is packed with protein, fiber, veggies and a dash of fruit for under $20 and less than 20 minutes to make!  And the greatest part is it can be tweaked to make a vegetarian option or have it for breakfast!  Enjoy!
Baja Chicken with Pineapple Salsa, Black Beans and Brown Rice
Ingredients (serves 2)
1 lb organic boneless chicken breast tenderloin strips (or substitute with soyrizo for vegetarian option, 4 organic large eggs over easy for brekkie)
2 tablespoons taco seasoning
1 tablespoon Extra virgin olive oil
1 avocado peeled and sliced
1/3 cup fresh salsa
1/4 cup pineapple tidbits
2 tablespoons light sour cream (optional)
2 cups brown rice
2 tablespoons cilantro
1 15 ounce can seasoned black beans
Water
Directions
In medium frying pan, heat olive oil on medium heat.  Add chicken and cook until golden (about 4-5 minutes per side), adding taco seasoning to cover both sides completely.  (For veggie option, heat olive oil to cover medium saucepan and add soyrizo on low/medium heat for approx 5 minutes.  I also add 1/4 cup diced red and green onion for crunch and texture).  In another saucepan, bring 1.75 cups of water to boil and add brown rice.  Lower heat to low/medium, cover and cook until ready (see directions on rice box).  Sprinkle one tablespoon of cilantro over brown rice when ready.  In separate small pot, heat black beans and one tablespoon of cilantro on low/medium until hot.  Combine salsa and pineapple in a bowl and mix thoroughly.  Serve brown rice, black beans and chicken together on plate, add salsa mix and sliced avocado to top and a dollop of sour cream to each plate.
Et voilà! Bon appétit et bonne santé!