Kate's very natural postpartum bump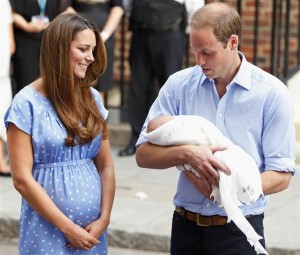 I am sure, by now, everyone including myself has had there fill of news covering the birth of the royal baby but after reading a particular article on the MNN site I felt inspired to recognize the significance of Kate's very public display of her post partum baby bump.
Shortly after receiving my own good news, I read in the headlines that 2 very high profile pregnancies were also under way. Since not only Kate Middleton but also Kim Kardashian are the same age as I am, I felt a sense of relief knowing that I would have a lots of pictures to compare my own bump size and weight gain to. Well, that came with mixed emotions considering for the next 9 months Kim was ridiculed daily for gaining too much weight and Kate seemingly gained barely any weight at all! Again, I was a bit lost when it came to what I should be looking like month by month.
I was also extremely unprepared for what happened directly after I gave birth. I not only did not go back to my pre-pregnancy weight,  I still looked roughly 7 months pregnant. I was also horrified when I stepped on the scale a few days after delivery and realized that I had lost only 10 lbs of the 50 I had gained during pregnancy! Yikes!
After calling all the moms I knew and asking every nurse in the hospital if this was normal, I finally got the full story. You don't, in fact, go back to normal size until about 4-6 weeks after you give birth. Your uterus expands to roughly 500 times its original size during pregnancy so it is no wonder why it takes a few weeks to complete involution, the deflation of the uterus to its pre-pregnancy position, and since I had also had an emergency C-section, recovery was going to take even longer.
This fact of motherhood is barely talked about and very underplayed in mainstream media so I was extremely pleased to see Duchess Kate expose her post baby bump for the world to see. She started a conversation about something that really needed to be highlighted and had been previously taboo.
Most celebs actually wear a double corset day and night after delivery in order to cover up this very natural post partum process and won't allow pictures out before they are back to being perfectly svelte. Kate, who's fashion choices are always very deliberate, set about to dispelling this myth that all moms should look perfect after just a few days of recovery in the hospital.
I was pleased that one of the most publicized births in the world unveiled the fact that if you look past the perfectly styled hair and dewy completion, there was just another new mom returning home from the hospital, facing the same bodily challenges we all face after giving birth.