Kayden's 4 Month Schedule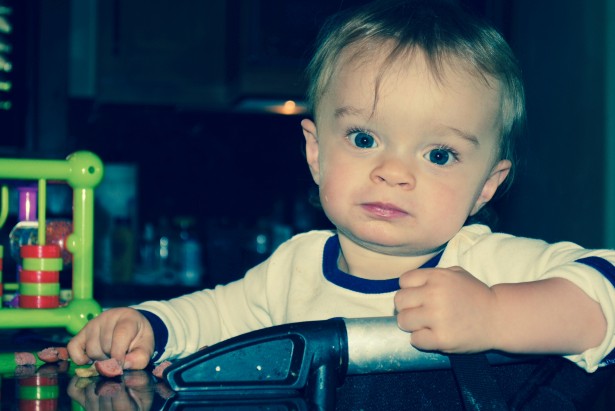 I recently had a friend with a young baby ask me for Kayden's routine at around 4 months so I figured I would combine the 3 and 6 month scheduled and go for the 4 month. Now when I read over it, it feels like it was ages ago, which is just another reminder to myself to cherish every moment because Kayden is becoming a little boy so fast! Just thinking about tummy time and breast-feeding is so crazy now that just a year later he is walking, playing, and shoving grilled chicken down his mouth with complete ease.
One of the hardest things about this particular time for a first time Mom is all the unknowns. I think back and see how many tears I shed thinking he would end up in a helmet because he had a bit of a flat head on his left side, or the possibility of him losing weight because of his reflux that came at month 3, or just simply overhearing other moms at the park say that their kids were sleeping through the night and thinking mine was still up 3 times a night. Now that I look back on that, I giggle a little, because I look at him now and even though he wasn't completely by the book, he turned out wonderful, healthy as a horse, and happy. I advise new Moms to give themselves a break if everything isn't going completely as planned, because in the end, everything will work itself out.
Looking back, I wish I had kept a better journal too, so even though you are completely spent, try to just jot down a few milestones and notes. You will appreciate it later on!
4 Month Schedule
Wake sometime between 7-8.
Feed: breast feed: -7:30
Change clothes and play from 8-9:30/10
Feed: breast feed: – 9:30
Swaddle and put down for a 45 min nap
Play from 11-12:30/1:00
Feed: breast feed: – 11:30
Swaddle and put down for a 1.5 hr nap
Feed: breast feed- 1:30
Play from 2-3:30
Feed: breast feed 3:30
Swaddle and put down for a 45 min nap
Play from 4-6
Feed: breast feed- 5:30
Bath time and story time: 6-7
Feed: breast feed: 7:30
Give 0.6ml of Zantac
Night: 8:00pm
Night feeds: roughly at 2am and 5am
breast feed or 3 oz bottle each night feed
Eats roughly 30 oz a day
Notes:

We had to keep upright for at least 30 minutes after feeding because of his reflux. We also applied that to keeping him upright most of the time to reduce spit up. Kayden also had a TV sensitivity at that time so we kept it as calm and quiet as possible. He loved singing, being held high on the shoulder, going for a walks, bouncing in the mirror. We also tried for 30- 45 minutes a day of tummy time but spread into increments of 5 minutes each because he hated it so much!
Nighttime and nap time he is swaddled in his sleep sack. Head was starting to become completely stable!
Usually falls asleep with binky in his mouth.
Baby Journal 4- 10 months-
October 20th- 4 1/2 months-first time in bucket swing!!
December 7th- 6 months- Rolling back to front and front to back on left side!
May 3- Update- 9, 10, 11 months

Kayden has been crawling since 9 1/2 months he is now crawling and standing at 10 and half months.

He is taking naps from approximately 8:30 or 9- 1030 or 11 and then again from 2pm to 3:30 or 2:30 to 4.

He still has a bottle at 7,10:30, 2, 5, 7. Plus he's eating three solid meals a day (light on the finger foods because he still kind of choking little bit) but he does already have about seven or eight teeth.

The teeth in the beginning where a little bit challenging but after the second or third tooth he's used to it so no need for Tylenol or Advil. During the first two teeth we would do a regimen of rotating Tylenol and Advil every 3 hrs per the doctor and Orajel at night.

He has mostly been sleeping on his stomach since about seven months.