May Eco-Friendly Beauty Pick: Making the Switch to Synthetic Makeup Brushes!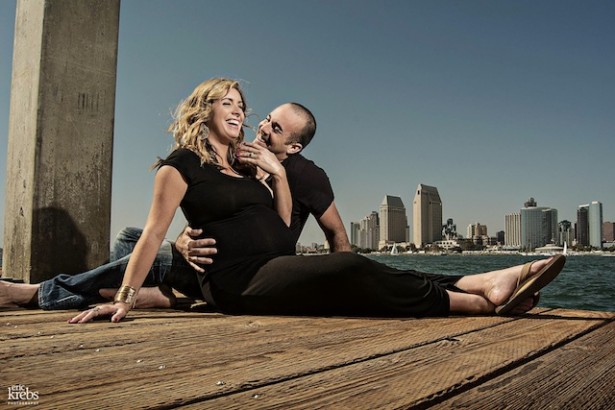 Each month I am slowly but surely switching out all my old beauty products with ones that are more eco-friendly and better for my health. Last month, in my top 5 picks for April, I found a great all natural shampoo and conditioner, body wash, etc. and this month I splurged on something I have never invested in before, a quality set of makeup brushes. It was the perfect purchase for a woman who is at the tail end of her 8 month of pregnancy and just wanted to feel pretty. The brushes were put to good use last weekend when my husbands awesome BF and super talented photographer, Eric Krebs, came down to San Diego for some quality time and to take photos before the baby arrives. I found myself playing around with Spring shadow colors for the photographs which completely helped me forget that the hands I was using to apply this makeup are now looking less like fingers and more like floatation devices.
While researching the best makeup brushes on Youtube, I was surprised to find that professional makeup artists were recommending synthetic brushes rather than the typical natural brushes made from animal hair.  Previously these brushes were said to have a disadvantage because their non porous nature did not allow them to pick up product and evenly distribute it as evenly as the natural brushes. With the advancement in technology these brushes no longer have that problem and also have a longer life span and add more versatility to your application. The makeup brush brand that was most recommended was Sigma, which is also half the price of MAC brushes, so I splurged on the vegan-friendly, synthetic Mrs. Bunny Sigma Essential Kit. Synthetic brushes are also cruelty-free and Eco-friendly because they don't use animal hair which give them a significant advantage as well. Here are more great reasons to make the switch to synthetic next time you hit up the makeup counter.
Hygiene and Skin Sensitivity: Because of the porous nature of the animal hair used in natural brushes, dirt and skin oils tend to get trapped in these brushes more easily. This bacteria then gets transferred back on the face and can lead to break-outs. These brushes are also more difficult to clean so bacteria growth is more common. Many people also have sensitivity because of an allergy to the horse, mink, goat hair that is used in the natural brushes so if you have any of these sensitivities it is best to opt for a synthetic set.
Versatility: Synthetic brushes can be used to apply all types of beauty products where as natural are really only used for powder. Natural hair brushes tend to streak the product, are hard to blend out, and often shed hairs leaving them stuck on your face in the product.
Cost Efficiency: I not only got an amazing 12 piece brush set for $109 but they will also last me a lot longer than natural makeup brushes will and eat up less product. Natural hair bristles absorb more liquid and cream product than synthetic bristles, which means there is more wasted product. Synthetic brushes also shed less and retain their shape better making them longer lasting in the end.
Animal Welfare: Natural hair brushes are made with animal hair obtained from fur farms, production animals and trappers. These goats, badgers, squirrels, fox's, and horses are killed inhumanely from electrocution, poison, decapitation and worse. This alone is reason enough for us to opt for synthetic and with the added reasons above, it seems a no brainer!