Mental Cleanse Challenge: Keep Calm and Enjoy the Green Grass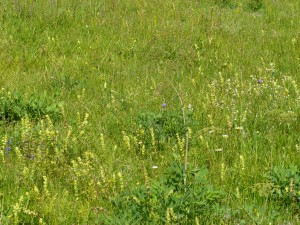 I'm sure many of you are like me.  I wake up in the morning, stagger into the kitchen half asleep and turn the coffee pot on, pop some frozen waffles into the toaster ( I'm severely addicted to Kashi's wholegrain blueberry waffles, a must try) and count down the seconds until they are both done.  Then I turn on the news and savor my warm sweet breakfast ( I like to dip my waffles into my coffee) while watching the horrific tragedies that seem to occur by the second according to CNN and CBS.
Once I have had my fill of mass shootings, biblical floods and political catfights, I turn on my computer and peruse facebook for a few minutes before I force myself to check emails.  My facebook feed is always an interesting mix of photos and updates on blissful newlyweds, dream destination vacations, sweet new babies, political news and the latest crises facing the ocean.  Half the time I bounce from oohing and aahing to groaning and moaning from one post to the next.  And I will be the first to admit I am guilty of every single one of those types of posts so I am not judging, merely making an observation.
And while I am always genuinely happy for my friends and inspired by their life events,  I also find the experience somewhat exhausting and emotionally draining.  I am always left with some lingering twinge of envy and the overwhelming feeling of the grass always being greener.  And for all practical purposes, my grass is pretty green.  Or at least I usually think so before I see my friend who just married Brad Pitt's younger twin, honeymooned on a private island, jumped out of an airplane only to land in turquoise tropical waters face to face with a whale shark and sold their business to Facebook for 100 billion dollars.  Did I mention she has a private jet and identical triplets?!
And as if that's not enough, we have Twitter, Pinterest, Instagram and a whole host of other social media mediums to toot our horns and tout our triumphs.  At any given time I feel like I should be having a debate with Alec Baldwin (which is actually a dream of mine although I don't think I could disagree with Jack Donaghy), building my dream home with a staple gun and some modge podge and creating a visual masterpiece out of a photo of my waffles ( will they look more delicious in Hudson or Willow?).  Is it any wonder we have such unrealistic expectations of what our lives should be?
Looking back, one of the best times in my life was when I was completely off the grid.  Granted I was in tropical island paradise (toot toot, beep beep) but I did not miss out on anything by not fervently checking news outlets or facebook frenzies.  Instead I was able to gain something more, something I've searched for my entire life, mental clarity.  And that is probably the only thing we can't buy these days (on Amazon or HauteLook or One Kings Lane or Groupon, believe me I check those emails).  For that is truly priceless.
So I guess you are all wondering where I am going with this and I am kind of wondering the same myself.  But I guess with the change of season and the onset of cooler weather comes more time at home where I find my mind wanders and my iPad does not leave my lap unless nature calls.
I have decided to make a goal for myself.  That goal is to spend a few less hours a day online, to skip the news and instead do something that helps me focus on my green grass.  Whether it be yoga ( I still haven't mastered the meditative mental quietness but I will continue to give it a go), a spin class ( yeah I prefer dancing on a bike like it's a nightclub in Vegas at 2 am), or even simply spending some time alone with my thoughts, I think it is important to clear the mind.  And in this crazy culture we live in, it is crucial.
And for all of you out there that have already achieved this feat of balance between zen and men, I would love to hear what it is that helps you get there.  Because unless I am literally on an island where there is no signal, I find it hard to lower the volume and shut out all of the noise.