Project Nursery: Pick Your Perfect Nursery Colors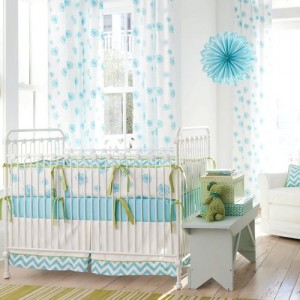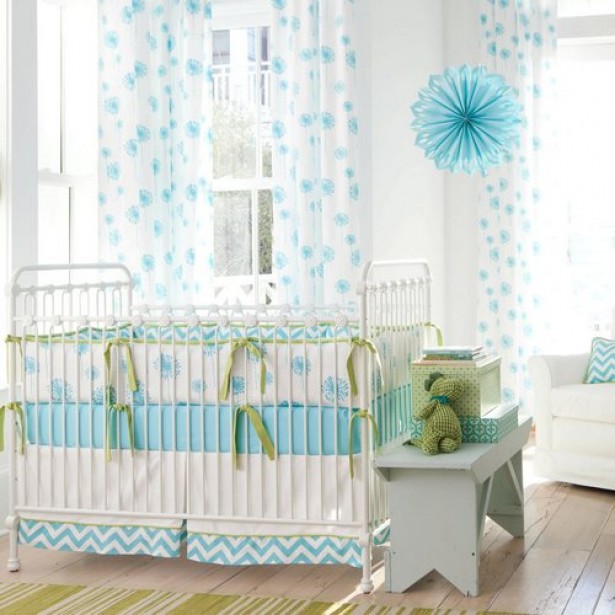 Roughly two weeks ago, I started charting out the Nursery in terms of large furniture pieces and basic must haves for the space, and today, I would like to focus on color. I know one of the biggest money pits can be a simple lack of sufficient pre-planning and research which leads to overbuying of resources like paint. To avoid purchasing unsafe paint materials for the nursery or having to redo a paint job over and over because you don't like the color placement in the room, use the tips below to save and create the safest environment for your baby. These aren't just tips from myself but from a wonderful family friend, and top interior designer in SD, who was nice enough to assist me in the basic how-to's of planning a nursery.
Tip 1 Pick Your Pattern: Start with either a bedding set, rug, or fabric swatch that has the basic color duo or trio that you would like to base the room off of. This will set the stage and make it much easier to pick out furniture color, wall color, drapery, and accent hues such as pillows and shelf decor. I decided to pick out the bedding first because a lot of the manufacturers websites will then give you the matching color scheme. Example below:
Tip 2 Research Color Psychology: Pick the right colors for your babies optimum sleep, relaxation, and comfort. There has been tons of research on color stimulation in babies and much of it should be heeded when planning the nursery. Rule of thumb: bold red, orange and yellows tends to cause over-stimulation in babies and make it hard at nap time while overuse of grays and dark navy can be cold and depressing. For more tips on color check out this article at About.com.
Tip 3 Use your Color Wheel: When I first bought my house I decided to take a Interior Design 101 class at the local community college and my teacher was emphatic about use of the color wheel. To speed up the color choice process follow the guide below for best color pairing. Also note that it is important to keep your colors in the same family once you pick ie: muted with muted, pastel with pastel etc., and then you can add some splashes of bold color later in your accent decor.
Color Schemes fall into 4 categories: 1) Monochromatic: different hues of one color 2) Complementary: colors opposite each other (blue & orange) 3) Analogous: colors side by side (blue-green and green) 4) Triadic: 3 colors equidistant in color wheel (blue, yellow and red)
Tip 4 Use a Virtual Planner: Ahh, technology. These days the guessing game comes to a halt when you use a virtual planner like Sherwin Williams Color Visualizer. This tool lets you upload a picture of your room and then drag and drop different paint colors for walls, trim and edges.
Tip 5 Live with it Before you Buy It: If you have chosen a paint or paints, go ahead and buy a small can first and put a streak on your wall. Walk in that room and look at it in every light. Morning, noon, mid-afternoon, and night and if you still love it after a week or two you know it is the right one.
Happy Painting- Valen