Recycle for Charity: 10 Surprising Household Items Collected for Cash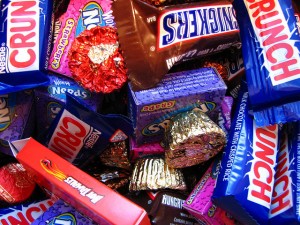 Happy Halloween everyone!  The day is finally here when we can all act like children, get dressed up in something silly and indulge in our favorite sweet treats!  And the best part is, I just found a program where you can send in your used candy wrappers for free and redeem them for points through Terracycle to be used toward the charity of your choice!  Best excuse to eat candy I have found yet!
This program is called the Candy Brigade and is one of almost 50 programs hosted by Terracycle to recycle and upcycle common household items, keep them out of landfills and turn them into cash used for charity.  All you have to do is sign up at Terracycle, click on the item you want to recycle, download a free shipping label and send it in to redeem for points!  I can't think of a better win-win-win situation!
Some of the other programs include:
1.  Baby Food Pouch Brigade      
2.  Brita Water Filter Brigade       
3.  Cell Phone Brigade   
4.  Cigarette Butt Brigade             
5.  Cleaner Packaging Brigade    
6.  Diaper Packaging Brigade       
7.  Ipod Brigade
8.  Inkjet and Toner Brigade       
9.  Garment Container Brigade  
10.  Solo Cup Brigade     
Check Terracycle to find out what other items you can send in for charity.  And if there are items that you would like to see have a program of their own, you can sign up to start one!
So be sure to collect your candy wrappers tonight, sign up for Terracycle and mail them in to send a treat to those in need this holiday season!