Save Money and Green your Wedding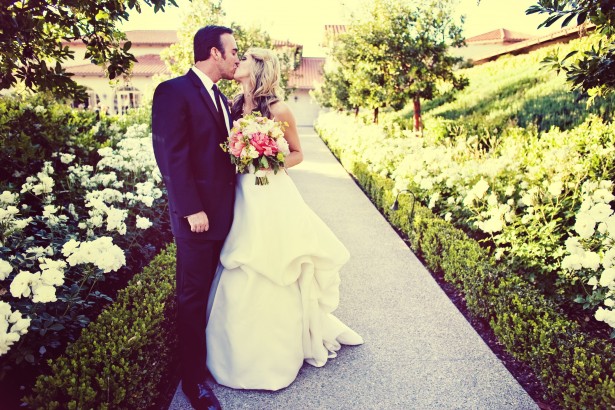 Spring is here and love is in the air! After seeing the fifth engagement announcement this year on Facebook I realized that wedding season is fast approaching and was inspired to share some tips on how to maximize your spending and also green your wedding. Many people associate going green with big spending but that is not usually the case when brides are planning their big day. In many cases just choosing the right location with built-in natural beauty can help you go green and also save on money on flowers and decorations. Here are some tips on how to save money while remaining eco-conscious on the big day.
Venue Choice: Many of the most beautiful weddings are often held in locations that really make a statement about the couples personality. Since the wedding location usually accounts for the largest chunk of the wedding budget, make sure you research your options well.
Cut down on transportation costs and pollution by having the ceremony and the reception either in the same place or within walking distance. That way you will also be able to reuse your ceremony flowers for centerpieces at the party.
Choose a venue that already has a beautiful setting to reduce the amount of decor and flowers you will need to purchase. Venues include botanical gardens, parks, tea rooms, barns, art galleries etc..
Off Season months such as January, February and November are considerably less expensive along with having your wedding on a Friday instead of a Saturday (that's what Mark and I did and then we had the whole weekend to spend with family and friends)
Having a central venue can reduce on travel impact and save your guests money as well.
Food Options: Depending on what type of theme you are going for the food possibilities are endless. Picking smart and seasonal options can add a lot of flavor and decrease on spending.
No matter what venue you decide to choose, by picking seasonal and local foods you are cutting down on environmental impact and supporting your local economy while getting the freshest fare for your guests.
Choose a potluck or BBQ if you can have on site cooking. Consider stocking your venue with local wines and appetizers while you let your guests bring the main courses. You can also save money by going picnic style and having everyone bring their mismatched tableware giving your celebration a vintage feel.
Rent real dishware, linens and glassware instead of using disposable. You can also buy mismatched dishware at a thrift store and then donate it back.
Flowers and Decor: By using seasonal and multi-use options you can increase the wow factor and save money on flowers and decor.
By purchasing inexpensive vintage frames for holding table numbers or using potted plants as part of the centerpieces and then doubling those as wedding favors, you can avoid one time use items and save money.
By using seasonal and organic flowers you avoid pricey imported flowers that are often sprayed with chemicals and pesticides.
Decorating with berries, fruits and branches can add a natural element to your day without a hefty price tag. Also using a lot of greenery in bouquets and centerpieces can be a savior when you are trying to stay within your flower budget.