Save money or make money with the new way to travel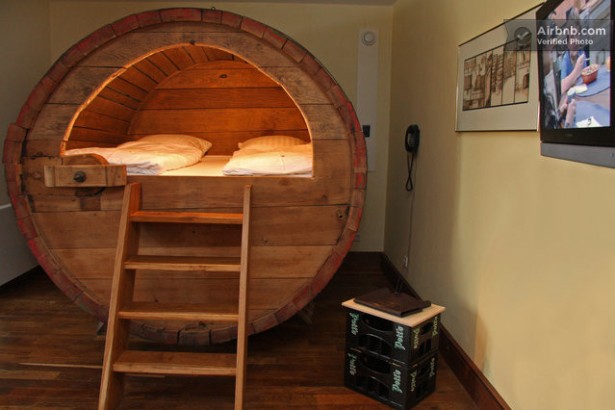 I was getting my brows done on Sunday at The Brow Bar in Kensington, which I highly recommend, and chatting about the Babymoon my husband and I are planning this May for our 3 year anniversary. We initially started chatting about spa resorts but then got on the topic of a new and very popular site, Airbnb.com, which is a site that allows you to rent other people's rooms or entire properties around the world instead of booking a hotel. I knew of this concept before in the days when I worked for a luxury booking engine but had never really explored the possibilities all that much. After spending some time on the site I am extremely impressed by this highly localized way of traveling and the tools it provides to get the inside track on a city from the people who actually live there.
The basic concept is that you can easily come to the site, pick a vacation destination, and then choose an accommodation featured by a native. This site, in particular, offers amazingly creative accommodations ranging from a 100% recycled tree house in San Francisco to a historic beer barrel in Ostbevern, Germany, to an igloo in ABBORRTRÄSK, Sweden. You can discover the insider spots to eat, drink, and shop and experience the city as a true local with the aid of your host. This allows people to create friendships and connections while leaving the stale hotel experiences and Frommer's books behind.
If your true interest lays with becoming a host, it is a great way to generate some income while meeting people from all over the world. Many of the hosts on this site had a desire to become their own boss or stay at home with their children more frequently and the hosting opportunity gave them the financial freedom to do so. This social travel site even offered a section for Hurricane Sandy victims to find other New Yorker's who were volunteering their rooms or properties to house those without shelter.
This is definitely the new way to travel and has become a much more cost-effective and interactive way to discover new places. There are many sites that offer a variation of this basic concept including Homeexchange.com and Couchsurfing.org which connect travelers to locals so they can share their cultural experiences and adventures. Stay tuned for more info on new travel sites and crowd-sourcing apps that will help you explore and create meaningful connections with the people all over the world!