Seasonal Produce Calendar: September Grocery List & Recipes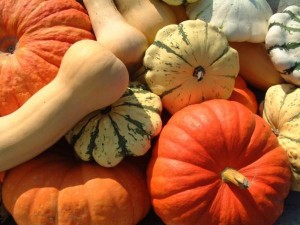 I have just returned from a wonderful and well-needed month of visiting friends, family and their sweet new babies!  It was the perfect way to end the summer and although it was definitely difficult to say goodbye, I am ready to welcome the start of fall and all of the delicious treats it has to offer.
That being said, I have an empty refrigerator and am off to my local farmers market today to restock and plan my menu for the month.  So I thought I would share with you what is in season this September to give you a head start on your shopping list and some delicious recipes to match!
September Seasonal Produce Grocery List:
beets    bell peppers    carrots    sweet potatoes    butternut squash    artichokes    cabbage    celery
avocados    green beans    kale    romaine    eggplant    potatoes    cauliflower    fennel
garlic    leeks    onions    raspberries    pomegranates    apples    cantaloupe    papayas
peaches    bananas    lemons    pears    limes    kiwi    figs    squash    grapes
Recipes:
Butternut Squash Chestnut Soup
Butternut Squash Ravioli with Saged Brown Butter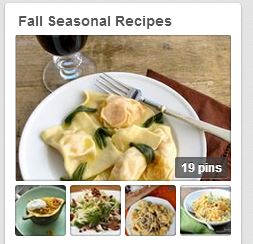 Visit our Fall Seasonal Recipes Pinterest Board for more delicious ideas featuring produce in season now!
butternut squash chestnut soup, butternut squash ravioli with sage brown butter, curried sweet potato soup, eating seasonally, fall recipes, Fall Seasonal Recipe Pinterest Board, farmers market, green living, healthy fall recipes, healthy recipes, seasonal menu planning, Seasonal produce calendar, Seasonal Produce Calendar: September Grocery List & Recipes