Seasonal Produce Calendar: Summer DIY Face Masks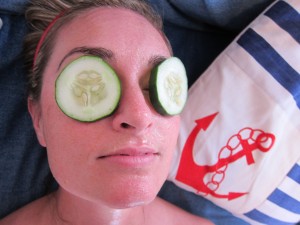 Ever since I have started following the seasonal produce calendar, I have enjoyed planning my meals to include the fresh seasonal ingredients as well as saving money from of buying them in bulk.  I have also found that I am eating a wider variety of fruits and vegetables and finding more creative ways to use them.  Which is how I have come to wear almost as much avocado as I eat.
For those of you that know me, you know that I love to indulge in my home spa treatments.  Thankfully this is the one silver lining I have found in the fact that my husband will be spending every third night on the ship from now until he is deployed.  So with all of my extra fresh ingredients around the house, I am inspired to find ways to include them in my favorite alone time ritual.  And I am excited for my skin to reap the reward!
Here are some DIY face masks using produce ripe this season!
Avocado and Apricot Face Freshening Mask
1 large apricot
1 avocado
Mash equal parts apricot and avocado together and apply evenly to face.  Let sit for 30 minutes and rinse with cold water.  Apparently Victoria Beckham swears by it!
Avocado Olive Oil Anti-Wrinkle Face Mask – courtesy of Livestrong
4 slices of avocado
5 drops olive oil
Mash avocado and drizzle olive oil on top.  Mix together and rub into face and neck.  Leave on for 15-30 minutes and rinse.  I have done this one multiple times and swear that it reduces the lines on my face!
Cucumber Sugar Smoothing Face Mask – courtesy of Organic Facial Recipes
1 cucumber
1 tablespoon sugar
Mash cucumber, strain water and mix in sugar.  Leave in refrigerator until cool.  Apply evenly on face and leave for 10 minutes.  Rinse with cool water.  Perfect for after a long day at the beach!
Revitalizing Grapefruit Face Mask – courtesy of Kristin Eldridge
1/2 grapefruit
1 tablespoon honey
1 egg white
1/2 cup oatmeal
Combine honey, egg white, oatmeal and juice from grapefruit in a bowl and mix well.  Apply to face and leave for 15 minutes.  Rinse with cool water.  Sounds deliciously refreshing!
Check out more face mask recipes I have collected on our Summer Seasonal Produce DIY Face Mask Pinterest Board!
Also, see the complete list of what's in season right now here!
Would love to hear your homemade beauty indulgences.  Hope you enjoy these as much as I do!