Seasonal Produce Calendar: Summer Juicing Recipes for Weight Loss and Detox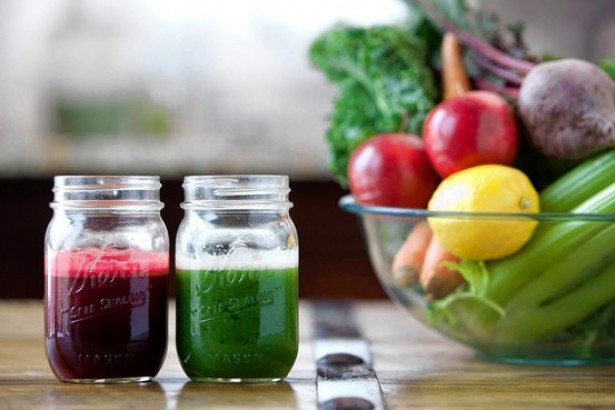 I have been hearing rave reviews from people about the health benefits of juicing for years now and I've never actually tried it myself.  Since summer is officially here and I want to get in better shape and feel healthier, I have decided that I will finally give it a go.  It's a great way to include all of the fresh summer produce in my diet and lose weight, detox and get back into that itty bitty bikini I used to sport in the Seychelles!  All that is required is a juicer, fresh organic produce and the motivation to replace either breakfast or dinner with one of these refreshing recipes.  Just throw them into the juicer and enjoy!
Mean Green courtesy of JuiceRecipes.com – Good for weight loss, digestion, cancer prevention, heart health, bone health
2 Granny Smith apples
4 stalks celery
1 cucumber
1 piece ginger
6 leaves of kale
1/2 lemon
Green Lemonade courtesy of Figgy and Sprout – Good for weight loss, asthma, cancer prevention
2 apples
1 cucumber
4 leaves kale
1 lemon
2 cups spinach
Asparagus Delight courtesy of JuiceRecipes.com – Good for immune system, complexion, eyesight, libido, water retention, inflammation, weight loss, detoxification
4 spears asparagus
3 large carrots
2 stalks celery
To find out what else is in season from the seasonal produce calendar check here!
And for more recipes including fresh veggies and fruit in season now, check out these Summer Grilling Recipes and DIY Face Masks!
I would love to hear if you have any juicing tips or tricks!