Summer Vacation: 12 Ocean-Friendly Travel Tips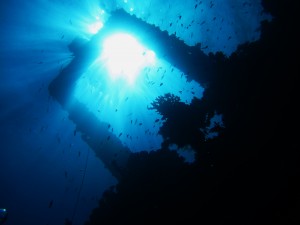 There is nothing I enjoy more during the hot days of summer than cooling off with a dip in the ocean and planning a trip to a place where I can spend some quality time face to face with my favorite flora and fauna underwater.  I love the peaceful tranquility of immersing myself completely in the marine world whether it be admiring the dolphins swimming by beachside or hovering over a coral reef during a dive.  And I am sure many of you share my sentiments.  That being said, it is important to take a few simple measures to ensure the protection and preservation of our majestic oceans while on vacation.
Here are some tips on how to make your travel more ocean-friendly!
Don't buy souvenirs from the sea – Avoid purchasing coral, shells, tortoise shell, shark fins, starfish and live pets like hermit crabs from souvenir shops.  Many are endangered and exploited for the sole purpose of the tourist trade.
Keep it clean – Be sure to collect your trash from the beach during your visit and never dispose of anything overboard while on a boat.
Explore the wild and pass on the animal park – Take advantage of the natural beauty by visiting  a Marine Protected Area near your destination that is rich with biodiversity and budget-friendly.
Don't be held captive on a cruise – Cruise ships are not the good stewards of the sea that they should be so pass on the party boats that have had more than their share of recent disasters.
Eat local and sustainable seafood – Enjoy the fresh fish from your destination and take a moment to check the Seafood Watch List from Monterey Bay Aquarium to select the most sustainable choice.
Be an observer – When snorkeling, free diving or scuba diving do not touch or take anything from the wild.  Bring a camera and take pictures that capture the natural state of the environment you enjoy.
Select an eco-friendly sunscreen – Many ingredients in popular sunscreen brands are harmful to coral and other marine life which make a huge impact with 4,000-6,000 metric tons of sunscreen entering the oceans every year according to Jean-Michel Cousteau.  The Environmental Working Group has a list of sunscreens that are less toxic to you and the environment.
Travel light – If you are visiting a remote island, don't take a ton of toiletries and other disposables.  Remember what you leave there most likely stays there as there are no landfills to put trash.  In the Maldives, there is an entire island of trash that gets blown into the ocean for lack of other disposal options.
Reuse creatively– Bring reusable items and pass on the multiple water bottles and plastic cups offered by the resort.  If you plan on enjoying multiple frosty beverages poolside, ask for your them to simply refill your cup.
Choose Eco-tourism Activities and Operators– When booking hotels and signing up for fishing, diving, jet skiing, parasailing and other activities, be sure to go with operators that don't exploit the local environment and work efficiently.
Reduce plastic footprint – The majority of plastic finds its way into the ocean and then is broken down into microscopic pieces consumed by marine life which then finds its way up the food chain to us.
Reduce carbon footprint – The ocean absorbs the majority of all CO2 in the atmosphere causing ocean acidification which threatens all marine life.
Hope you have a wonderful summer vacation somewhere beautiful!