Tough Natural Remedies for the Cold and Flu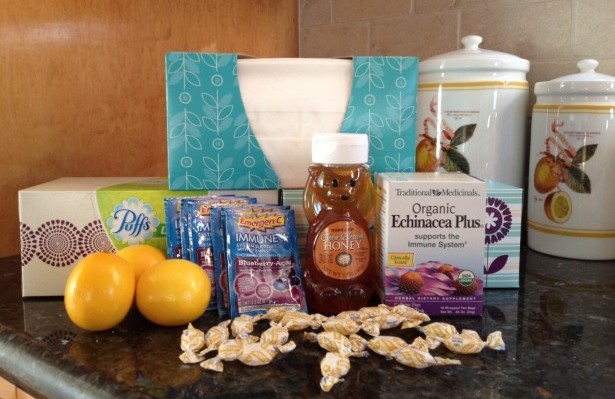 Every year around this time, without fail, I catch whatever cold, flu, sinusitis, strep throat , etc.. that's out there. No matter what I do to keep myself well hydrated, vitamin efficient and bundled up I can't seem to avoid it. Well, this year was no different and while reaching the height of my misery mid-day yesterday I finally decided to come up with a different approach to the common cold.
I went down the usual list of remedies I keep stocked in the medicine cabinet, NyQuil, Tylenol Cold, Mucinex, TheraFlu and realized while those are good at masking the sickness, I needed something more impactful to shorten the length of my cold while boosting my immune system to fight off the virus. I chose to go with an array of natural remedies from some very reliable online sources and after a night of treatment I must say that I feel about 50% better which is a feat in itself.
Here is the breakdown on the natural remedies that worked for me:
Zinc: This is an essential mineral that not only decreases viral activity but boosts the immune system as well.
Throat lozenges are recommended rather than pills or nasal sprays, I use Zand HerbaLozenge Cherry Echinacea. This lozenge is all natural and combines Zinc with Echinacea which has also been proven a powerful cold fighter.
Vitamin C: While this seems like the obvious answer it is the dosage and the timing that make all the real difference when fighting the cold and flu. If vitamin C is taken once the cold has already started then it is clinically proven to have very little effect.
The real benefit is to take it before and during the sickness which shortens the length of the virus. Doctors are now recommending 500 milligrams of vitamin C six times a day for a total of 3,000 mg daily to be taken during the height of flu season (Nov-Mar). Whether you are on team Airborne or team Emergen-C, like me, these are both great ways to get 1,000 mg of the super vitamin in one drink.
No wonder I got sick, I thought my daily packet of Emergen-C was sufficient and I was off by 2 packets!
Ginger Tea with Honey: Ginger root has been proven to attack pain, inflammation, germs and viruses. Ginger also works at relieving nausea making it a top contender for fending off flu symptoms.
Add 2 teaspoons of honey to your tea not only for flavor but for its antioxidants, antiviral and antibacterial properties. The antioxidants in honey boost the immune system and make this blend doubly impactful against the sniffles. Add a few squeezes of lemon to add a bit of vitamin C as well.
Steam with Eucalyptus oil: Eucalyptus oil has several compounds that combat viruses, bacteria and fungi. One of those compounds, cineole, has been shown to improve symptoms of headaches, stuffed noses and mucous overflow which makes this a good addition to the flu fighters.
Put 3-4 drops of eucalyptus oil in a steaming pot of water. Create a tent with a towel over the pot and breathe in deeply for 5-10 minutes a few times a day. The combination of the steam and the oil will work to clear your nasal passages and break up that stubborn mucous. Since I have not budgeted to invest in a humidifier this cold season, for nighttime I use a wet washcloth on the doorknob of my bedroom as a substitute. This works great, just soak a bath towel in hot water and add a few drops of the eucalyptus oil. Ring the towel dry and put it around the closed door of your bedroom. The moisture in the towel will humidify the air throughout the night and the best thing is that you can thrown it in the washing machine right after.
These top picks for natural cold and flu fighters have worked the best for me. Hopefully with the flu season starting the earliest it has in a decade they will help you to either prevent the sickness or at least get a head start on shortening it.