Under $20 and 20 minutes: Healthy Spring Quinoa Salad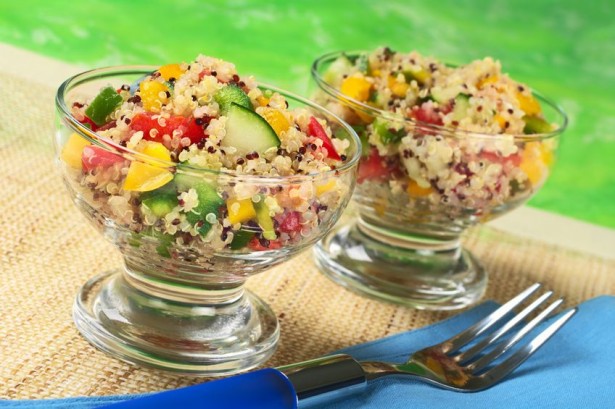 Finally spring is here and it is the perfect temperature outside and time of year to enjoy one of my favorite light salads loaded with healthy veggies.  It is great to pair with a light fish or chicken dish or make a main to savor with some chilled white wine.  I first tried a version of this recipe from my dear friend Lauren Linsmeyer and I have tweaked it a bit to fit my palette.  And the best part is this recipe is vegan so anyone and everyone can indulge!
Spring Quinoa Salad (Serves 4-6 as a side, 2-3 as a main)
1 cube Vegan Vegetable Bouillon with Sea Salt and Herbs by Rapunzel (can substitute with vegetable broth)
1 cup uncooked quinoa
1 avocado, cubed
1/2 cucumber, diced
1/2 red onion, diced
1/2 green bell pepper, diced
1/2 cup kalamata olives, chopped
1/2 cup artichoke hearts, chopped
1/4 cup parsley, chopped
1/4 cup dried apricots, chopped
1 lemon
2 tablespoons extra virgin olive oil
2 tablespoons balsamic vinegar
Directions – Rinse quinoa and bring 2 cups of water with cube of vegetable bouillon (or 2 cups vegetable broth) to boil.  Stir in quinoa and reduce heat to medium/low and let simmer for 15-20 minutes.  Let quinoa cool and transfer into large mixing bowl.  Gently stir in cucumber, red onion, bell pepper, olives, apricots, avocado, parsley and artichoke hearts. Cut lemon in half and drizzle with lemon juice, balsamic vinegar, and olive oil and stir until evenly mixed. Serve warm or cold.
Bon appétit et bonne santé!