Under $20 and 20 minutes: Healthy Turkey Bolognese Pasta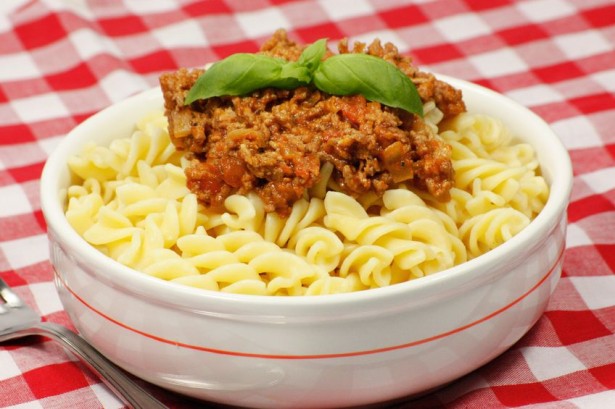 I absolutely love this recipe and have been making it for years with whole wheat pasta.  Recently I have been trying to eat less wheat and gluten and tried this organic brown rice pasta which is better than any pasta I have ever tried, regular or whole wheat.  And it is sustainably packaged!  I love it!  This is the perfect hearty meal to warm up you and your loved ones on a chilly night.  Also a great intimate dish to pair with a bottle of red for your Valentine.  And the best part is it's quick and easy!
Turkey Bolognese Fusilli Pasta (serves 4)
Ingredients
1 12 ounce box Jovial Organic Brown Rice fusilli pasta (gluten free)
16 ounce ground lean organic turkey meat
1 24 ounce jar pasta sauce (I love Classico's Spicy Red Pepper)
1 white onion diced
8 oz white mushrooms (washed and sliced)
2 cloves garlic minced
1/3 cup red wine (I love using Cabernet or Syrah for richer taste)
2 tablespoons extra virgin olive oil
2 tablespoons parmesan cheese (optional)
Directions
Pasta:  Bring water to boil in medium/large size pot.  Add dash of salt to speed up boiling process.  When water is boiling, add entire box of pasta and lower heat to medium/high.  Pasta should be fully cooked in 9 minutes.
Sauce:  In large saucepan, heat one tablespoon olive oil and one clove of garlic on medium heat.  Add turkey and cook thoroughly until lightly browned.  Reduce to low heat, add red wine and pasta sauce, mix and let simmer.  In medium saucepan, add second tablespoon of oil and clove of garlic and heat on low/medium for a minute and then add onion and mushrooms.  Cook until onions become transparent and mushrooms are browned (2-3 minutes).  Add onion and mushroom mix to the turkey and sauce.  Simmer on low heat all together for 3-5 minutes to allow flavors to combine.
Serve sauce over pasta in bowls and sprinkle parmesan to top!
Et voilà!  Bon appétit et bonne santé!
Vanessa;)