Valentine's Day Recipe: Chocolate Fondue for Two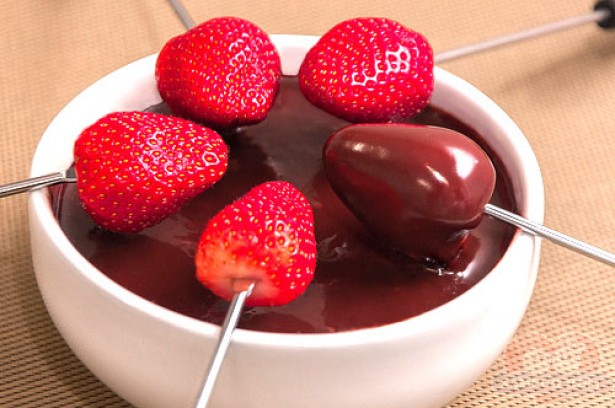 I am soooo excited to have my hubby home with me this week!!!  We have much to celebrate in this brief stay most notably our one year anniversary of being married and of course Valentine's Day!  Watch me whip up this delicious decadent dessert in no time!
I got this recipe from the Food Network and made slight changes to make it more our style.  In place of the sugar I used organic agave nectar which is an all natural plant based sugar replacement which is a healthy alternative and has a delicious maple like taste and texture.  I also used our favorite Endangered Species dark chocolate bar with blueberries that is 72% cocoa and the best part is that 10% of the profits are donated to organizations that support endangered species conservation, habitat preservation and humanitarian efforts.
Ingredients
1/2 cup unsweetened natural cocoa powder (I used Ghiradelli)
1/4 cup agave nectar (I used Madhava amber)
1/2 cup nonfat evaporated milk
1 tsp. vanilla extract
2 ounces dark chocolate finely chopped
Strawberries and sliced bananas for dipping
Directions
Whisk cocoa powder and agave nectar together in medium saucepan.  Slowly pour in milk and whisk to make a paste.  Place saucepan on low heat and cook, stirring constantly, until simmering.  Remove from heat and mix in vanilla extract and chocolate stirring until melted and fully mixed.  Transfer to fondue pot or bowl, dip your fruit and enjoy!
Happy Valentine's Day to you and yours!!!
Vanessa;)