Welcome Baby Kayden James Lindner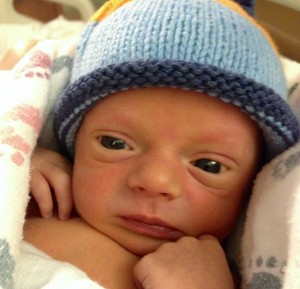 Now that I'm back from my three-week maternity leave, I am overjoyed to announce the birth of my baby boy, Kayden James Lindner. He was born on the morning of June 9, 2013 at 9:35 AM, and weighed in at 5 lbs. 13 oz.
My little bubs decided he couldn't wait any longer to meet his Mom and Dad so he arrived 3 weeks and one day early. I was not expecting to go into labor Sunday night, June 8th at 2 AM but that was what happened and everything worked out wonderfully.
After planning on a natural birth during my pregnancy I was surprised to find myself being prepped in pre-op at roughly 8AM for an emergency C-section because of the positioning of the baby. He not only had the cord wrapped around his neck but also had two pretzel type knots in the umbilical cord, which is very unusual.
Despite everything, my little guy came out healthy and happy and I am so blessed to have had such a wonderful team of doctors and nurses at Sharp Mary Birch in San Diego. More baby news and articles to come!