2014 Update from The Sustainable Spot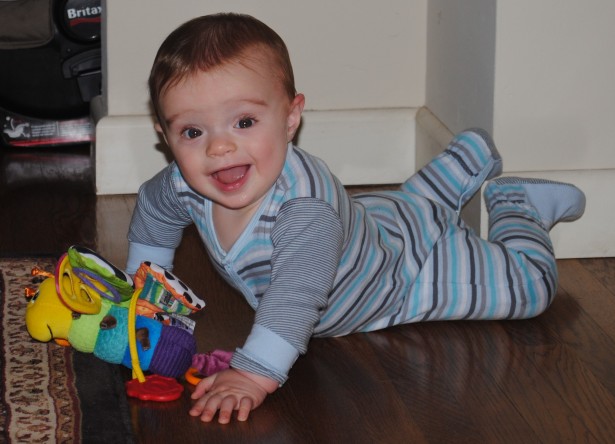 So excited to bring you news from the Sustainable Spot family!  2014 has been both wonderful and challenging so far and so we wanted to quickly fill you in on the fam!
First off, Kayden is now a whopping 21lbs and in the 98 percentile in height!! I say this, a little to brag, of course, but to also give hope to any of you that gave birth to a preemie, that everything will work out just as it should. The doc didn't tell me in those first couple nail biting months when we were driving to the hospital to weigh in Kayden every other day (thank goodness) that KJ started out in the 1 percentile of weight at 5lbs 13oz. So it just goes to show you that nothing can hold back our little ones no matter what the birthing circumstance are!

He is now crawling fast as lighting, climbing, eating solids, and pulling himself up on everything possible (gulp) and also finally sleeping through the night (better late than never) and all around just a cheery bundle of joy! I will be continuing to post on the Mommy Spot on the sanity savers and/or the complete mysteries that continue to come up everyday in motherhood.
We did, unfortunately, lose our best friend and first furry son, Ranger, early this year at the young age of six. It has been a huge devastation and we miss him terribly and think about him everyday. We know he is up in dog heaven though, still guarding Kayden and sending us big sloppy kisses and taking up all the room on the couch with the other doggies. We will always love him and hold a special place in our hearts for our baby Ru.
Nessy has some amazing news to report as well! She is two months into a brand new job where she gets to work with veterinary hospitals to provide the best medical care for our pets!  She is loving the challenge of the new position and the fact that she gets to work alongside sweet puppies and kittens every day!  She even adopted the newest member of the Vick family, Albert! An amazingly sweet and adorable grey and white tabby kitten!  She is in love with both her new kitten and her job and is excited to write about the trials and tribulations of trying to live a sustainable lifestyle while managing the life of a sales rep.  She is also moving into a new place and is looking forward to sharing her adventures in decorating on a budget!
We would love to hear any requests on topics or information you would like to hear from us.  We always want to keep an open forum as you are all part of our Spot family!