3 Natural DIY Deep Conditioning Hair Treatments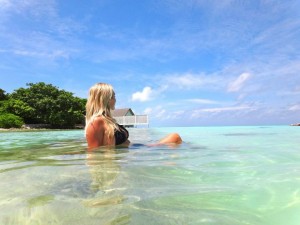 I can't think of a better remedy for fighting the blues than soaking in some sunshine, getting sandy and salty at the beach and spending time with good friends.  And that is just how I spent my Sunday.  Oh how I love summertime!
One thing I don't like about my blissful beach days is the fact that it leaves my hair dry and brittle.  I have tried everything from leave in conditioners applied before my day out to over the counter deep conditioners globbed on generously afterward and nothing seems to fit the bill.  And they all break my budget.
So I decided to try some at home remedies and have found the sweet relief I have been searching for!  Here is what helped me!
Avocado Coconut Banana Hair Mask from Kibby's Blended Life
Blend 1 avocado, 1/4 cup olive oil, 1 tbsp raw honey, 1 banana, 1 can organic coconut milk.  Leave on for one hour and rinse.  The honey will lighten your hair a bit as well so you will have smooth silky sunkissed locks!
Tip – Keep the rest of the blend you don't use in baggies and freeze them to keep for your next beach day.
Coconut Olive Oil Deep Conditioning Treatment from Huffington Post
Mix 2 tablespoons olive oil and 1 tablespoon coconut oil and apply to ends of hair, avoiding scalp.  Leave on for a few hours for best results.
Tip – You may need to heat up coconut oil by rubbing together in hands to get it into liquid form from solid.
Egg Yolk Olive Oil Hair Repair from The Daily Glow
Whisk 1 egg yolk (2 for longer locks) in mixing bowl.  Beat in 1 tablespoon olive oil.  Add 1 cup lukewarm water to mixture to dilute and apply to clean wet hair.  Comb through hair completely and leave in for 5 minutes.  Rinse with cool water for extra shine.
Tip – Do not rinse with hot water because it could cook the egg which would make for a messy cleanup and less desirable results.
What do you do for your hair post beach day?