3 Simple Healthy Appetizer Recipes Fit for Foodies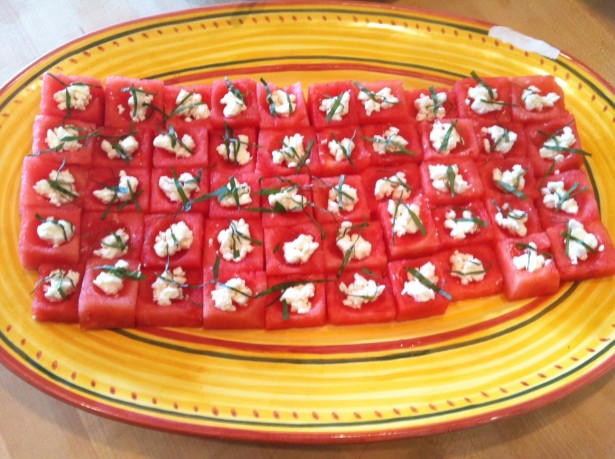 This weekend was a special treat for me as I was lucky enough to spend it with one of my most dear friends and her beautiful family on a crystal clear lake in Michigan.  It was lovely.  I got to try stand up paddleboarding for the first time (expertly taught by my favorite nine year old partner in crime for the weekend), attended the baptism of her beautiful baby and got to catch up with my bestie and her group of Michigan girls over a potluck BBQ lakeside.  Perfect recipe for the perfect weekend!
I was so impressed by everyone's creative and delicious summer dishes that I thought I would share them with you.  They were simple, healthy and quick to make and I am definitely going to keep these on my list of top picks for the next time I need a dish to bring to a party.  The last one is one that I have made several times at home for just Stu and I that have made it on my regular rotation and are deliciously addictive.  Hope you enjoy!
Basil Feta Watermelon Blocks from Self.com (see photo above)
1 watermelon, rind removed and cut into 1.5 inch blocks
3 oz crumbled feta
2 large basil leaves, sliced thinly
Scoop out top of watermelon blocks, fill with feta and top with basil.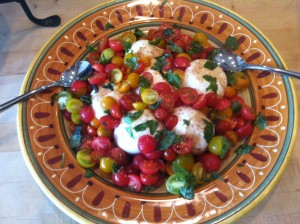 Burrata Tomato Salad with Crostini from White on Rice Couple
1 lb cherry tomatoes, washed and halved
8 oz fresh burrata cheese
fresh basil
olive oil
balsamic vinegar
salt and pepper to taste
baguette, sliced thinly and toasted in the oven
Arrange tomatoes and burrata in a bowl, drizzle oil and vinegar, sprinkle salt and pepper and top with plenty of fresh basil.  Serve with crostini baguette slices and enjoy!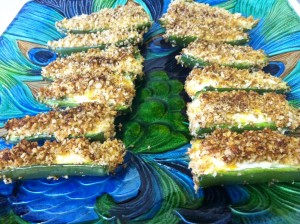 Skinny Baked Jalapeno Poppers by Skinnytaste
12 jalapeno peppers, washed, seeded and halved
4.5 oz neufchatel cheese (or light cream cheese)
2 oz low fat shredded Mexican cheese blend
1/2 cup egg whites
1/2 cup panko bread crumbs
1/8 tsp paprika
1/8 tsp garlic powder
1/8 tsp chili powder
salt and pepper to taste
Please share your favorite foodie finger foods in the comment section below!  Thanks!