Spring Savings: Drink Recipes from the Garden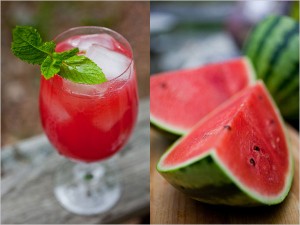 After almost 8 months of not being able to have a real cocktail, strong cup of coffee, or any refreshment that has an overwhelming amount of caffeine, my everyday drink choices are becoming stale. I have an herb garden that I haven't tapped into much to spice up my water and so I am going to create a Spring menu of virgin cocktails and refreshing spa waters (and also add a few recipes I am dying to try after the bubs comes) to get me through this next 6 weeks and the heat that is quickly rising. Please share any of your drink recipes with me in the comments section, I need all the inspiration I can get to help me through the home stretch of pregnancy!
Lavender Infused Lemonade: Martha Stewart
3 cups granulated sugar
3 cups water
1/4 cup dried lavender
4 cups fresh lemon juice (from 16 to 20 lemons)
Ice, for serving
Lemon slices and fresh lavender sprigs, for garnish
Directions
Bring sugar and water to a boil in a saucepan, stirring until sugar has dissolved. Stir in lavender. Remove from heat, and let stand for 10 minutes. Strain, discarding lavender. Let cool. Stir in lemon juice. (Lemonade can be refrigerated in an airtight container for up to 1 week.) Serve over ice, and garnish with lemon slices and fresh lavender sprigs.
Watermelon Agua Fresca: Yummly
8 cups seedless watermelon cubes
6 tablespoons honey or agave nectar
1/3 cup fresh lime juice plus 1 sliced lime
A few sprigs mint or rosemary
Ice
Directions
Puree watermelon in blender. Strain into bowl through fine-mesh sieve. Stir in honey and lime juice. Transfer to pitcher; stir in 1-1/2 cups water, lime slices and mint. Chill; serve over ice.
Blackberry Mint Julep: Cheeky Kitchen
1 pint (2 cups) fresh blackberries
1/3 cup sugar
1/2 cup bourbon
4 cups ice cubes
1/2 cup fresh mint leaves
4 sprigs fresh mint, if desired
Additional blackberries, if desired
Directions
In blender, place 1 pint blackberries, the sugar and bourbon. Cover; blend on high speed until blackberries are pureed. Add ice. Cover; blend 30 to 60 seconds longer or until ice is crushed. Add mint leaves. Cover; blend until mint is finely chopped and mixture is well blended. Leave out bourbon if virgin cocktail is desired.
Pour into 4 glasses. Garnish each with 1 mint sprig and additional berries. Serve immediately.
1/2 cups sugar
3/4 ounce fresh herbs, such as basil, lemon verbena, mint, tarragon, or thyme
1 teaspoon freshly squeezed lemon juice
Ice, for serving
Sparkling water or club soda, for serving
Directions
Put sugar and 1 cup water into a medium saucepan over medium heat. Bring to a simmer, stirring until the sugar has dissolved. Remove from heat; add herbs. Cover; let cool completely.
Pour syrup through a fine sieve into a small bowl; discard herbs. Stir in lemon juice. Refrigerate at least 30 minutes.
Fill glasses with ice. Add 2 to 4 tablespoons syrup; top with sparkling water or club soda, and stir.