Eco-Friendly Cosmetic Company Enhances Inner and Outer Beauty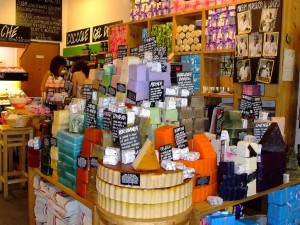 From bubble bath bombs to shampoo bars to liquid eyeliners, LUSH offers a broad spectrum of fantastic cosmetic products that are fresh, handmade and eco-friendly.
The company uses all natural organic ingredients that are ethically sourced, sustainable and animal cruelty-free .  They are so committed to making sure they uphold these standards that they send employees out in the field directly to the sources themselves to evaluate whether they fit with their ethical and environmental policies.
The green policy of the company is very thorough and transparent and includes initiatives addressing the reduction of packaging, waste, energy, water consumption, transportation and raw materials.  Their creativity has inspired products such as their solid shampoo and conditioner bars with no packaging at all and they continue to think outside the box in an effort to reduce their carbon footprint.
LUSH continues to go above and beyond by supporting a group of grassroots charities and projects that protect the environment and human rights through the proceeds of the sale of their charity pot moisturizer.  They also support the campaign to ban shark finning which is a problem that is threatening the existence of sharks in the ocean worldwide.
With so many positive qualities about this company, it is hard to say what I love about them most.  But I will say that I love their bubble bars when I want to indulge in a delicious bubble bath as well as the beautiful shades in their emotional intelligence makeup line for lips, eyes and skin.  And I feel even better knowing that these products not only make me feel more beautiful but help protect the beauty of our world.