Green Beauty Product Review: EcoTools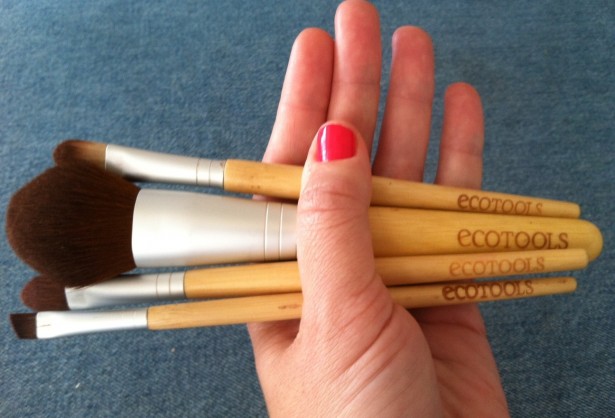 Are you a budget savvy girl trying to find eco-friendly products at the supermarket?  You are in for a treat because today marks the day I begin the reviews of my favorite products that will help you save green on both fronts!
To start off the list will be one of my very first green purchases I found in the cosmetics section of the CVS I frequent all too often.  My eco-friendly makeup brushes made by EcoTools first caught my eye several years ago and with routine maintenance and cleanings I am happy to report they are still in mint condition!
I have the 6 piece Bamboo brush set which includes brushes for blush, eye shading, eyeliner, concealer and brows and comes in a convenient roll up case made from hemp and cotton.  The case also has a zipper compartment to hold my eyeshadows and blushes.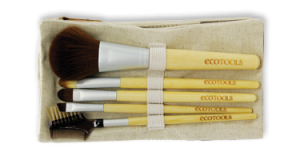 Eco-Criteria:  These brushes are made from recycled resources (recycled aluminum), sustainable materials (bamboo) and alternatives to animal products (synthetic taklon) making them cruelty-free and eco-friendly.  And they are packaged with recycled materials.  A win-win-win!  And on top of it all, the company donates money to support the Ocean Conservancy, Jane Goodall Institute and the Conservation Fund.
Favorite features:   The ultra-soft bristles, convenient carrying case and long-lasting durability.  And this entire kit clocks in at $12.99 which is less than one brush at the MAC counter while being eco-conscious at the same time!
Not so hot:  They are not the most colorful or glamorous of makeup accessories.  The brush handles and the bag are a neutral beigish sort of color but I find that elegant and classic in its own way.  And no toxic dyes were used just to jazz up my makeup bag!
So if you enjoy a simple solution to your makeup application needs that is a win for your wallet and the environment, EcoTools may just be the perfect answer for you.
Bottom Line:  I give it two green thumbs up!!!