Pocket Size Personal Trainer: Fitness Buddy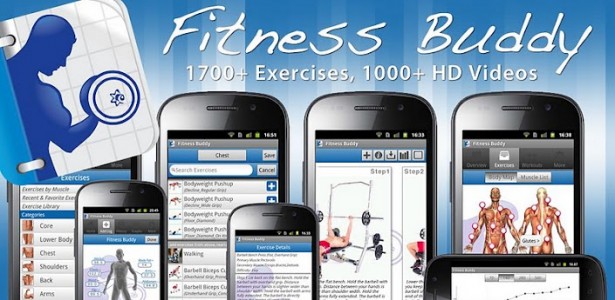 This year, since my husband and I are now responsible for a new mortgage and are planning for a baby we are much more conscientious about spending on the extravagant luxuries like gym memberships and training sessions. We have downsized from a high-end, top of the line gym downtown to the YMCA in Mission Valley and instead of personal training sessions we are taking advantage of TRX classes, spin classes, and our new favorite app, Fitness Buddy.
Fitness Buddy is the pocket-size personal trainer I have always wanted. You can log on and choose a full body workout and they will give you a list of customized exercises that you can do to accomplish your goals. It will also show the fluid movement in their step by step animations so you don't have to keep flipping back and forth between steps. The full body workouts range from using weights, to kettle bell workouts, to using just your body weight so you can easily exercise on the road or at home as well.  You can then log in your reps and notes and keep it stored in your workout history.
For me, I am not really allowed to do sit-ups or intensive core engaging exercises so I can simply search by a specific body part and get access to hundreds of new exercises to choose from. I can also keep track of my body weight and BMI daily all on one page with a push of a button. You can either get the Fitness Buddy for free or upgrade to the pro version for $.99. Hope this is helpful for those looking to get in a great tailored exercise routine without the hefty bill.