10 Reasons Why You Should Go on a Volunteer Expedition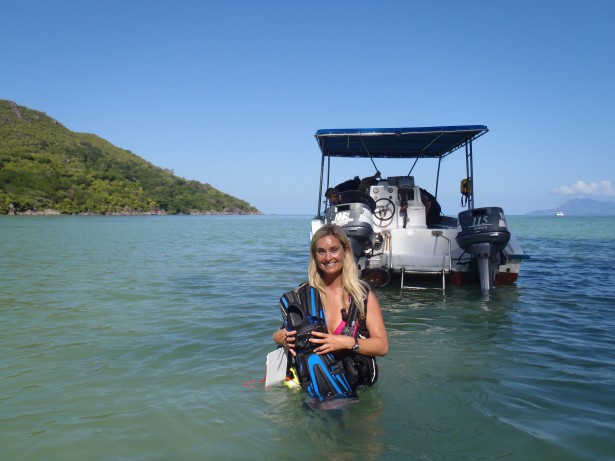 Three years ago, I embarked on a journey that has left me forever changed.  I signed up to volunteer for a 10 week marine conservation expedition to study and survey coral reefs in the Seychelles islands.  I had only been scuba diving once in my life and knew next to nothing about coral, conservation or marine biology for that matter.
In a matter of ten weeks, I learned about the intricacies of the coral reef ecosystem, how to identify 50 species of coral and their complex scientific names and how to hover inverted and write underwater to record them just to name a few.  In fact, I was so deeply moved by the experience that I wound up staying for a year, working for the expedition company, becoming a dive instructor and pursuing a graduate degree in marine conservation.  And on top of it all, I met my now husband.  My volunteer experience gave me a new perspective on life, new friends around the world, a new career I am passionate about and the man of my dreams!
Here are ten reasons why you should participate in a volunteer expedition!
Learn something new – Whether you want to learn how to scuba dive, become a safari guide, become fluent in a foreign language, teach others English, rehabilitate elephants, or build homes for those in need, you can find an expedition that will help you achieve it.
Get certified – From CPR to First Aid to PADI to TOEFL, you can find many certification programs included in expeditions that will help your career once you get back home.
Work hands-on –  In our world of technology, sometimes we never get the chance to really work face to face with what we are truly passionate about.  There is something so raw and satisfying about seeing and feeling firsthand the project you are involved in and being able to have tangible and measurable results.
Great for traveling solo, as a couple or with friends.
Complete immersion in local environment, culture and communities.
Helping others and the environment.
Meet like-minded people from all over the world and form lifelong friendships.
More affordable to stay at destination for extended period of time.
Looks good on your CV/resume.
Career change – It's a great way to gain experience in a field you may want to pursue.
Here are some great resources to help you find your perfect volunteer expedition!
Global Vision International – This is the company I went with and loved!
WiseOceans – WiseWork opportunities
I am so passionate about these programs that this is my second post on volunteer expeditions.  I wrote about my experience in a previous post you can read here!