3 Simple DIY Natural Hydrating Face Masks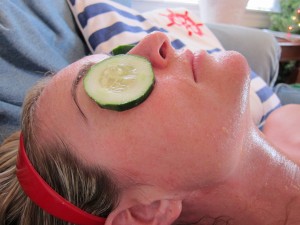 With the temperature dropping twenty degrees in just a matter of days, my skin feels so dry and tight I fear it might tear.  This combined with post-holiday dehydration and sleep deprivation and I am definitely feeling the need to be pampered.  After researching a bit on my favorite organic natural remedy sites, I found a few easy DIY recipes to the rescue.  And with just two ingredients and a two minute preparation, the Honey Citrus Mask rescued my skin and I feel ten times better already!
Here are three great DIY natural remedies to hydrate your holiday weathered skin just in time to look fresh for ringing in the New Year!
Honey Citrus Hydrating Mask (Courtesy of Livestrong)
3 tablespoons orange juice
1/2 cup honey
Pour honey into mixing bowl.
Mix orange juice into honey.
Apply to clean face.  Leave on for 30 minutes to allow for full hydration.
Rinse with warm water and apply moisturizer to seal in moisture.
Yogurt Honey Mask (Courtesy of All Natural Beauty)
2 tablespoons honey
2 tablespoons plain yogurt
Mix together ingredients in small mixing bowl.  Apply evenly to clean face and neck.  Leave on for 20 minutes for full hydration.  Rinse with warm water and moisturize.
Avocado Moisturizing Mask (Courtesy of Revitalise Your Health)
1 avocado
1 egg white
2 tablespoons olive oil
1 tablespoon apple cider vinegar
Take the skin off the avocado and mash into paste with smooth consistency.  Add olive oil and vinegar and mix thoroughly.  Beat egg white in separate bowl and add into avocado mixture until good consistency for application.  Apply mask evenly to clean neck and face.  Leave on for 20 minutes for full moisturizing benefits.  Rinse off with warm water.
Enjoy!
Also, try these Natural DIY Deep Conditioning Hair Treatments!